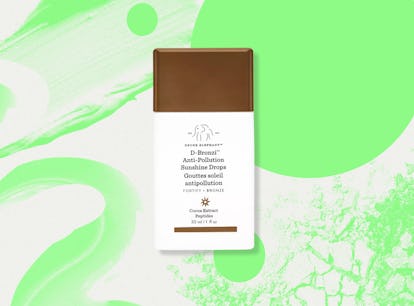 An Honest Review Of Drunk Elephant's Viral Bronzing Drops
The Alix Earle-beloved product always sells out, but is it worth the splurge?
We may receive a portion of sales if you purchase a product through a link in this article.
I like to think of myself as somewhat of an authority in the sunless tanning space. From my days getting spray tanned before pageants in college to my nights slathering on St. Tropez's award-winning Self Tan Berry Sorbet Mousse in the bathroom of my tiny Brooklyn studio, I've tried it all, so I feel pretty confident recommending products to my friends. With Drunk Elephant's D-Bronzi Sunshine Drops constantly selling out and my summer glow a distant memory, I knew it was finally time to put it to the test to see whether I should add it to my list of recs.
I first stumbled across the drops when I was scrolling through TikTok and saw Alix Earle slathering a serum-like product on her face that gave her an instant, glowy tan. The product in question was Drunk Elephant's now-viral bronzing drops, a cult-fave serum marketed as "sunshine in a bottle." It doesn't stain the skin like traditional sunless tanning products, which is *major*. Instead, it's a serum with a shimmery tint designed to add subtle color to your face. You can layer it with other skin care products and wash it right off with your makeup at the end of the night.
The #bronzingdrops hashtag has over 410 million views on TikTok, with countless videos dedicated to discussing, reviewing, and testing out Drunk Elephant's product or similar dupes. And if GRWM queens like Earle and Golloria swear by it, I knew it had to be good. Below, you'll find my honest review of the viral D-Bronzi drops, plus my thoughts on alternatives to try.
BDG product reviews and recommendations are written and conducted by writers and editors with expertise in their fields. Testers often have specific experience with the situation or product at hand, and/or their review or recommendation is provided in consultation with experts. You can learn more about our standards here.
Fast Facts:
Price: $38
Who this is best for: People who want a subtle, sun-kissed glow without having to apply a tanning product that stains sheets or clothes.
What I like: The consistency is creamy and easy to apply, and the color is fairly customizable depending on the amount you choose to use.
What I don't like: At almost $40, this feels like a splurge, especially for something that isn't an essential step in your daily routine.
My rating: 4.5/5
The Packaging:
I love Drunk Elephant's simple and colorful packaging, and this product looks like the rest of the brand's offerings. It comes in a squeezable white bottle with a bronze cap, and I had no problem doling out the right amount of product to mix in with my Supergoop sunscreen. (This is how Drunk Elephant recommends using the drops: mixed into a cream, oil, or serum and blended onto the skin.)
First Impression & How To Apply:
Texture and consistency are always important factors for me, especially for anything that's going on my face. I was impressed by the creamy composition of the drops and how easy it was to mix them together in my hands with another product — though beware that it can get a bit messy since the drops are tinted. Drunk Elephant advises shaking the bottle before each use and applying one or more drops depending on the shade you want to achieve. I found that two drops (or one big squeeze) gives me the right amount of color.
Are The Drunk Elephant Bronzing Drops Worth It?
I've been using these for around two weeks, and I'm honestly enjoying them a lot more than I expected to. I usually prefer products that leave a days-long tan on my skin (Tan-Luxe drops are my holy grail to mix with my nighttime moisturizer), so I wasn't sure I needed something extra in my morning routine. But these drops really do add a subtle glow and shimmer that sits nicely under light makeup, without looking like you layered on anything for extra color — no orange tint here. Especially as my natural tan fades, I'll be reaching for this to give me life in the colder months.
My biggest con is that the $38 price tag is pretty steep, and there are a few great dupes out there that claim to give a similar bronzing effect for less (more on that below). I might cycle through some of those after I finish my current bottle of D-Bronzi — but if you're really set on the OG viral product or consider yourself a Drunk Elephant groupie, this would make a solid addition to your beauty cabinet.
Similar Products
Thanks to D-Bronzi's virality (and the fact that it's often sold out), plenty of TikTokers have scoured the internet looking for dupes. Here are the most popular ones out there... including my personal favorite of the bunch, the Saie Glowy Super Gel in Sunglow.
The Final Verdict:
Alix Earle is on to something here, and TBH, who is surprised? These bronzing drops are nicely packaged, a dream to apply, and somehow both subtle and noticeable on my skin. While I wouldn't call them a must-have for everyone — especially if you're on a budget — I'd recommend them to people who are into sunless tanning or want a little added color without the work of doing a full tanning process at home.
About Me
I'm a beauty-obsessed editor who grew up watching YouTube videos in my middle school bedroom about everything from how to do a perfect winged liner to which hair serums were worth the splurge. I've worked in the women's media space for six years and have tried a lot of beauty products in that time. When it comes to tanning, in particular, I've endured enough disastrous lotions and streaky spray tans to know what works and what doesn't.