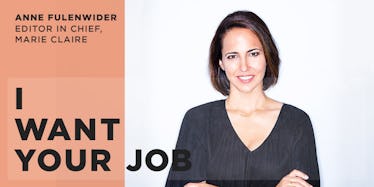 I Want Your Job: Anne Fulenwider, Editor-In-Chief Of Marie Claire
Welcome to "I Want Your Job," Elite Daily Women's series that inspires females to go after their professional and personal dreams. We've teamed up with the most inspiring women who've made a name for themselves succeeding in everything you've envisioned doing to bring you a taste of what being a Boss Lady in every industry really looks like.
These women never gave up on their dreams, never let a man tell them "no" and aren't backing down for anybody. If you want her job, here's how to get it.
As I'm going through my notes from my interview with Anne Fulenwider, Editor-in-Chief of women's magazine Marie Claire, I realize the descriptions of her "typical" day (if you can call it that, more on this later) and her version of "having it all" are very closely matched, which is a true testament to her lifelong determination to achieve her dreams and be successful.
"I have a very simple version [of having it all]. It's waking up excited to go to work every morning... and coming home to people I love. I really feel like skipping to work every day. I'm as close to having it all as I can imagine," Anne shares.
So, yes, it's true. Being the Editor-in-Chief of an esteemed French magazine really is as glamorous and fast-paced as "The Devil Wears Prada" portrays. The fact that it's not lost on Anne makes her incredibly inspiring.
In reality, though, Anne's days are much more diverse and detailed. It's not all flights to Paris and meeting fashion designers and befriending influencers -- still, she does this as well.
"I try to wake up before the rest of my family, exercise, drink coffee, read news, then I get my kids up. My husband makes breakfast. I'm in the office around 9. I get reading done, like manuscripts, and have a standing meeting at 11 am with the Art Department to look at layouts. I give [them] direction," she explains.
Reminder: It still is not noon yet. We probably just logged off Gchat, while Anne has been logging in serious hours.
She continues, "I have meetings in the afternoons... as long as I get reading and the layout done in the morning, that's when my brain is best. Two to three nights per week I go out. If I don't have an evening engagement, I try to leave at 6."
But, as Anne jokes, "That happens about three times per year."
Most of the time her schedule is packed with appearances, speaking commitments, traveling, meetings, appointments to preview clothing, partnerships and drumming up more ways Marie Claire can form collaborations.
Her advice for keeping up with such a jam-packed schedule? "I have to be nimble as the day progresses and just roll with it," she says like a pro.
It was a long road, however, for Fulenwider to earn her highly coveted status -- the EIC certainly put in the effort. Her love of writing, exploring and reporting on her findings began when she was just a teenager.
"Being the Editor-in-Chief of the newspaper in high school is where I first fell in love with storytelling. I was 17 years old managing a group of eight peers. It taught me the management lesson you need to have really great people around you and trust they can do what they are great at," explains Anne.
This message is key, especially because only 35 people put Marie Claire magazine out each month. With that much on each person's plate, you have to be confident in your team.
"The creativity and the collaboration are the most exciting things," Anne gushes.
And for those of us struggling just to get our foot in the editorial door, don't get discouraged: Keep at it and take comfort in knowing Anne has been there too.
"It's intimidating to enter the workforce. You come out of college thinking you're a genius, and no one needs you... I was really intimidated when I was 22. I did not feel right at home. But I stuck with it and forced myself."
Indeed, "sticking with it" is largely responsible for Anne's success.
"My advice to young women is to stay in the workforce. Stick with it. How do you get to be a senior editor? If you just stick with it and just stay working at it, sooner or later experience catches up with you."
After experiencing tons of rejection and office burnout, it's easy to want to give up, retire early and earn your M.R.S. degree. We've all been there, questioning if our career goals are really worth it or if we should ease up on them.
According to Anne, it's exceedingly important for women to push through that negative mindset and maintain their independence.
"Other people choose other fields or women stop working, but I feel strongly a woman's life is really long, and you never know what will happen. I feel strongly about financial independence."
From traveling the world to endorsing industrious and creative entrepreneurial females, Anne not only lives and breathes women's issues but also advocates on their behalves. Being EIC of a prominent women's magazine has given her a platform to get their messages across, for which she is grateful.
"Where I am now, I don't feel hindered. At Marie Claire, there's no one who understands women better than we do. I feel very personally attached to the women's issues around the world. There's so much about our content that speaks to me."
Anne Fulenwider's confidence is infectious. She makes you feel like no matter what path you choose, as long as you make the choice for yourself, you're on the right track.
You can be at the top of your field and still decide to go back to school to learn more. You can make a career in NYC and then widen your experiences abroad.
As Anne notes, "The subject material is always changing. I'm always learning… [it's] an incredible opportunity to expand my horizons."
But Anne Fulenwider doesn't just expand her own horizons, she broadens ours as well.