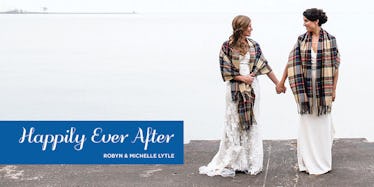 This Chicago Wedding Proves Winter Is The Most Romantic Time Of Year
Welcome to Elite Daily's Happily Ever After series, a collection of unique and downright spectacular Millennial weddings showcased in magnificent detail.
It's the ultimate inspiration for brides, grooms and romantics who just can't get enough of fairytale weddings.
If your "dream wedding" folder is bursting with photos of vintage décor, vibrant flower bouquets and black tie flair, our Happily Ever After series will fuel you with even more creative vision for your special day.
Robyn and Michelle's wedding story began the day after Robyn's birthday, when the couple hiked San Francisco's Kite Hill to enjoy the sunrise.
Michelle presented Robyn's birthday present, a book filled with pictures of particular spots that told the story of their relationship, from where they first met to where they first kissed.
After Michelle's proposal, Robyn proposed. She'd commissioned an Etsy artist to decorate a plate with her handwritten proposal.
Robyn and Michelle got ready for their special day at the Thompson Hotel in Chicago, Illinois.
Backed by city views, the brides had their first look.
Bridesmaids dressed in striking blue gowns, and their plaid wraps showcased the vibe of a winter wedding in the city.
Robyn and Michelle looked breathtaking in their elegant wedding dresses from BHLDN.
Their bouquets gave off a woodsy feel, complete with pine, babies breath and blue thistle.
The ceremony and reception was held at Gallery 1028 on Chicago's Goose Island.
Romantic string lights and exposed brick created an urban chic setting for the ceremony.
The place cards were a perfect addition to the wedding, tiny tree stumps and all.
The couple's vanilla cake featured rainbow layers slathered in buttercream frosting.
Divine cupcakes from Courageous Bakery were also served.
All the best to the happy couple, Robyn and Michelle Lytle.
This wedding was also featured on 2brides2be.