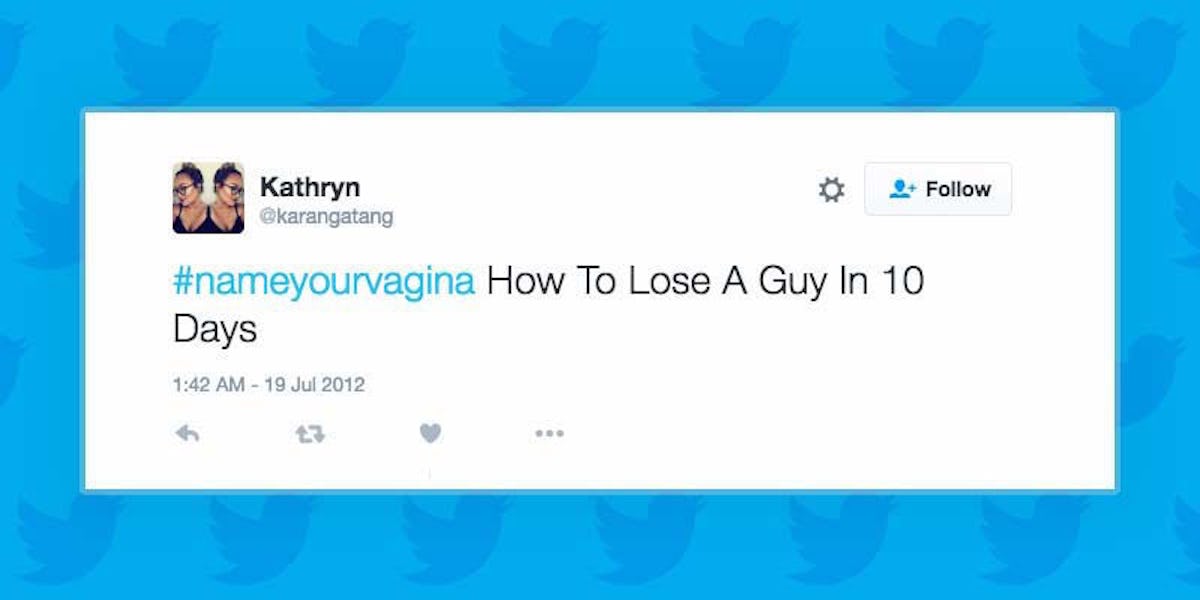 Women Are Naming Their Vaginas After Movies And Twitter Has Never Been Better
Kylah Benes-Trapp/Twitter
Every once in a while, people get really creative on Twitter and come up with trending topics that are pretty hilarious, to say the least.
Whether it's using three words to sum up your love life, posting a clip of misheard lyrics or using a song to describe your ex-bae, there's no shortage of entertaining tweets out there.
If you're currently in need of some comic relief, you'll be glad to know that we just came across a new Twitter trend this morning that's pretty damn funny.
Apparently, someone posted a Tweet asking women to name their vaginas after the last movie they saw. And, trust me, the ladies of the Twitter-sphere did not disappoint.
Miracle on 34th Street pic.twitter.com/p2T5hxFcXE — Margaret Cho (@margaretcho) August 22, 2016
Yep, thanks to the #NameYourVagina trend, lots of women, including actress Margaret Cho, have been posting vagina names inspired by box office hits.
And so far, we've seen everything from muffs named after scary movies to cooter names inspired by chick flicks and everything in between.
Check out the Tweets below to see some of these creative vagina names on Twitter.
As you can imagine, things got pretty hilarious.
You know that name your vagina from the last movie you watched thing? Well mines 'How to be Single' and it's too funny — ocean lady 〰 (@oceana_bleuu) August 24, 2016
So far, we've seen everything from va-jay-jays that are all about love and friendship...
#nameyourvagina Love and Friendship — Andrea (@TheFlossieTP) July 16, 2016
To beavers that aren't afraid to bring it on...
Bring it On! Ha! #NameYourVagina with the #LastMovieYouWatched https://t.co/nj3OQKb844 — TNVgirls (@realTNVgirls) May 19, 2016
Hoo-has that know how to lose a guy in 10 days...
#nameyourvagina How To Lose A Guy In 10 Days — Kathryn (@karangatang) July 19, 2012
Mysterious muffs that are simply magical...
@ImpetuousImpact (harry potter) the chamber of secrets. #nameyourvagina #soundsdeep — Blair Waldorf (@ImperiousAllure) July 9, 2016
Lady bits that know what you did last summer...
#NameYourVagina i know what you did last summer — Mr. Wes (@jaran7wes) July 19, 2012
Castle-like cooters...
'The Castle'. But better yet, I watched it on #Manbang #nameyourvagina pic.twitter.com/r9fW0yuC2I — SchadenfreudianSlip (@NadiaNelson67) August 23, 2016
...and guardians of the gash galaxy.
Guardians of the Galaxy. FEAR my lady parts #NameYourVaginahttps://t.co/AwwFur43k1 — Helen (@spangly_mangly) July 16, 2016
Then there's this one that sounds like a bikini wax gone wrong.
And this one that is just to die for.
But you're never getting in my pants.
Citations: Women are naming their vaginas after the last film they watched and it's hilarious (Mashable)