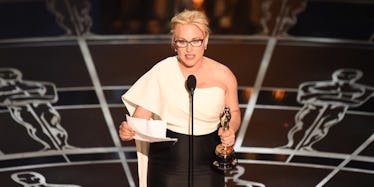 How Women Are Using Their Celebrity To Fight For Equal Rights
At the Academy Awards, it's all about the stars' glitz and glamour.
However, more than ever, women are challenging the stereotypes that follow them on the red carpets. Sexism is no longer something that is being ignored at awards shows, thanks to some of the most important women in Hollywood.
When accepting her award for Best Supporting Actress for "Boyhood," Patricia Arquette took the chance to call out sexism across all the boards:
"To every woman who gave birth, to every taxpayer and citizen of this nation: We have fought for everybody else's equal rights. It's our time to have wage equality once and for all and to fight for equal rights for women in America."
The applause for Arquette could not have been greater.
The cameras quickly cut to Meryl Streep and Jennifer Lopez, who sat next to each other in the audience.
While the two make an odd combination of star power, the acting legend and music mogul were almost jumping out of their seats with approval. Streep even pointed and yelled out her approval straight to Arquette.
Earlier in the night, Channing Tatum revealed the winners of "Team Oscar." Six students were chosen for creating the best 60-second videos based on the best piece of advice they had ever received.
Two of these six winners were women. It's kind of hard to believe that just in this group of people, there were more female winners than females who have won Best Director at the Academy Awards.
This year, there were no females nominated for Best Director, Best Cinematography or either of the Best Screenplay categories.
Despite great feats by women like Ava DuVernay and Gillian Flynn in their respective areas, apparently it was just not enough to be recognized by the Academy.
However, it's not just the awards that have been sexist; the red carpet was a major target of feminist groups this year.
The Representation Project is a company that challenges the media to overcome gender stereotypes. Headed by documentarian/actress Jennifer Siebel Newsom, the company has urged reporters on red carpets to ask women more than just who she is wearing with the hashtag #AskHerMore.
It has often been noted that when men are questioned on the red carpet, their choices of clothing and hairstyle are not topics on which reporters tend to focus.
However, as soon as women step up to a reporter, it's more so about the dress than the woman inside of the dress.
When Best Supporting Actress nominee Emma Stone was told that she looked beautiful as always when attending an Academy luncheon, the actress joked:
"Oh, thank you, that's all that matters."
On the red carpet, Ryan Seacrest asked another Best Supporting Actress nominee, Laura Dern about her jewelry. She responded by saying her ring was for lung cancer awareness, proving that beauty is more than just what someone is wearing.
Toward the end of 2014, Keira Knightley (who was also nominated for Best Supporting Actress) agreed to pose topless for Interview magazine with one clause: there could not be any Photoshop done on the image.
Knightley explained to the UK Times:
"It does feel important to say it really doesn't matter what shape you are. I think women's bodies are a battleground and photography is partly to blame."
It was a bold move for the actress, and an important one.
Actress Emma Watson also made a bold statement this year with her stance on gender equality.
In her position with the United Nations, Watson was able to stand in front of the world and give a "formal invitation" to men to join the fight for gender equality with the movement, HeForShe.
While many of the previously mentioned women are big power players, Watson is amongst the most powerful. Her role as Hermione Granger in the "Harry Potter" films cemented her status as a role model for young people all over the world.
Many actresses have really taken a stance for gender equality. Hopefully, the rest of the world will soon realize what these women are fighting for and then, gender inequality will be a thing of the past.