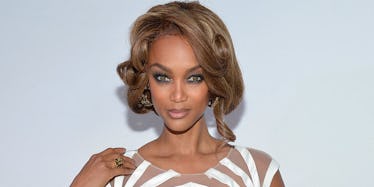 5 Badass Women Who Built Their Empires Without A College Degree
Getty Images
In our age of technological development and spreading education, a college degree is increasingly regarded as a requirement, rather than a desired bonus. Many employers won't even bother to look at your resume if it can't boast four years of higher education.
However, there is good news for those of us who can't afford to go to college. Hard work and determination often are more important than solid, formal education. Here are the stellar examples of five women who made it big without college degrees:
1. Coco Chanel
The founder of one of the most adored fashion brands in the world never had a chance to attend college. Born to an unmarried woman in a poorhouse, Gabrielle Bonheur Chanel was placed in an orphanage shortly after her mother's death.
She went to a religious school in Moulins at the age of 18, where she continued to learn how to sew, which is the craft she took up at the orphanage. It was this skill that allowed her to create the revolutionary little black dress and establish the fashion house that would grow to be an icon of elegant luxury. Coco also founded the perfume house, and it is now worth $1.5 billion.
2. Anne Beiler
If you thought all high school dropouts were doomed to poverty and gloom, think again. While you're thinking about this, you can chew on an Auntie Anne's pretzel. Its creator, Anne Beiler, made millions of dollars selling these soft and chewy pieces of deliciousness.
As she was born to a family with eight children, she never finished high school. But she learned how to bake when she was a child.
Together with her husband, Jonas, she bought a vending stand in Downington, Pennsylvania. She used it to sell pretzels and help Jonas open a free family counseling center in the community. Twenty years later, the business is making $309 million in sales worldwide.
3. Mary Kay Ash
Whether or not you've ever included any of her products in your cosmetics bag, this lady's name is known all over the world. Her company, Mary Kay Inc, was listed in Fortune magazine's "The 100 Best Companies To Work for In America." It was also featured in the book, "Forbes Greatest Business Stories Of All Time."
Yet, the founder of one of the most successful cosmetic companies in America never went to college. Instead, she honed her skills as a salesperson. Mary Kay quit her job to protest against the company, as it had promoted a man she had trained and granted him a salary much higher than hers.
At the age of 45, she invested $5,000 to launch her own business. Today, it makes $4 billion in sales, and employs 3.5 million people worldwide.
4. Tyra Banks
A world-renowned model and media tycoon, Tyra is one of the most influential women in the entertainment industry today.
In 2011, news sources exploded with headlines that reported that Tyra had graduated from Harvard Business School. However, as further digging showed, the program that Tyra had graduated from was a non-degree certificate course.
Now, let's be clear about it: The creator and executive producer of "America's Next Top Model" did not win recognition just because of her looks. She was an honor student in high school, and was admitted to USC and UCLA before she chose to attend Loyola Marymount.
However, she had to leave college in her first semester to travel to Paris and Milan, in order to build her modeling career. The latter ended up being so successful and lucrative that Tyra never ended up finishing her degree. As it turned out, she never needed one, either.
5. Ashley Qualls
Ashley first developed an interest in technology and web design when she was 9. At the age of 14, she founded the website Whateverlife.com with free MySpace layouts and HTML tutorials.
The materials on the website were free, but Ashley managed to monetize the resources through advertising. She left high school at the age of 15 to concentrate entirely on her business. Stunningly, by the time she turned 17, her pet project was worth over a million dollars.
If you finish reading this and still feel like you should go to college, do it. If you feel you're better off investing your time and money into developing your own business, do it.
The bottom line is this: Pursue your dreams, set daring goals and search for your path. No matter whether that path includes college or not, make sure it takes you where you want to go.