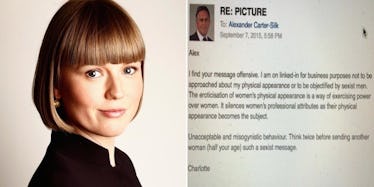 Woman Faces Backlash After Posting This Man's Sexist LinkedIn Message
LinkedIn is not for hot, steamy hookups, contrary to what its name suggests.
Charlotte Proudman, a 27-year-old lawyer, posted a profile photo on the professional networking site hoping to make a few occupational connections.
Unfortunately, when solicitor Alexander Carter-Silk contacted Proudman, it was not regarding a potential job or the accomplishments listed on her CV.
According to Daily Mail, the 57-year-old father of two wrote,
Charlotte, delighted to connect, I appreciate that this is probably horrendously politically incorrect but that is a stunning picture!!! You definitely win the prize for the best [LinkedIn] picture I have ever seen.
Offended by the married solicitor's use of the professional site for fielding looks-based comments, Proudman responded publicly to Carter-Silk's message.
She wrote,
I am on linked-in for business purposes not to be approached about my physical appearance… by sexist men… It silences women's professional attributes as their physical appearances becomes the subject.
Despite the solicitor mentioning in the message his comment was, indeed, inappropriate, the backlash toward Proudman for speaking out reigned down like an unholy plague -- a plague specifically targeting women and avoiding creepy, middle-aged, white men.
Proudman told Daily Mail,
I have received messages saying: 'You have ruined your career. You have bitten the hand that feeds you. There go your instructions from solicitors.' I have also had the usual: 'You don't look that great' and 'It's just a compliment.' It just shows the extent of sexism in the legal profession. It does appear to be very bad, particularly because it is male-dominated.
While condemnation from men may be expected, there were women, too, who disagreed with Proudman's behavior.
With the tidal wave of troll hate, there also came a drizzle of support.
A representative of Carter-Silk claimed the husband of 30 years offered an apology to Proudman for any offense his comments caused.
Proudman did not accept Carter-Silk's apology. She told Daily Mail the remorse he expressed was "for the [offense] that I have taken, so there is no [acknowledgment] that the message he sent was inappropriate or is sexist."
Though many criticized Proudman for negatively affecting Carter-Silk's career and being unable to graciously receive a compliment, she reportedly felt little remorse.
She explained to the Evening Standard,
It was a message sent to me and I have a right to expose it. If these people aren't made to feel repercussions for actions, which are wrong, then their behaviour won't change and the culture will remain incredibly sexist… He should have thought about his actions before sending a sexist message to a 27-year-old barrister.
On Twitter, Proudman stood by her comments.
Despite Carter-Silk's established reputation as a respectable lawyer who represented the likes of supermodel Elle Macpherson, the attorney was also judged for his previous online activity.
Last year, Carter-Silk commented on a 27-year-old fitness trainer's physique in a Facebook photo including his own daughter, the Evening Standard reports.
The lawyer reportedly wrote,
Whilst I should not encourage lascivious comments about my daughter... Yeee gods she is hot!!
For a man who prefaced many of his comments with the awareness they are improper, he sure said a lot of disturbing nonsense.
Citations: I'm no man-hating feminazi - this is LinkedIn, not Tinder, says woman barrister as she refuses to accept apology from 57-year-old lawyer over inappropriate message (Daily Mail), Lawyer at centre of LinkedIn sexism row caught commenting on photo of his own DAUGHTER (Evening Standard)