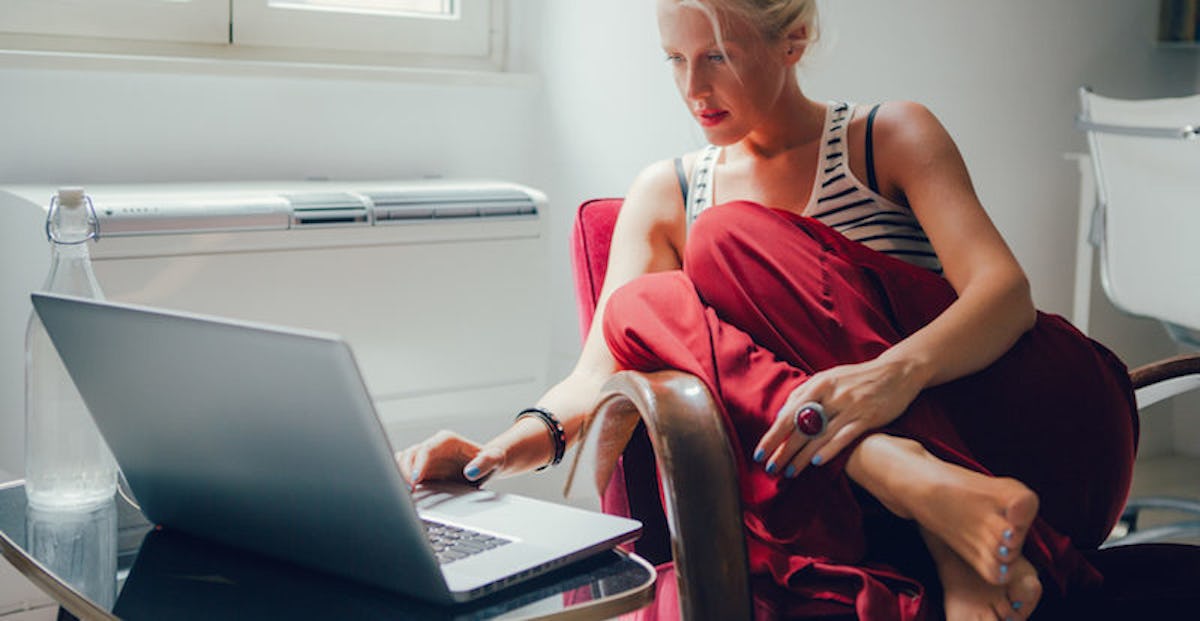 Why Social Media Sites Might Be More Effective Than Dating Apps For Finding 'The One'
Stocksy
Every Instagram user has felt it: that warming, joyful sensation when you come across a successfully filtered photo with which you really just connect.
I usually experience it when @matchesfashion posts a picture of a designer shoe I can't afford. For others, though, these photos have led to a more real — and hopefully lasting — emotion: love.
Denis Lafargue and Elizabeth Wisdom found each other via Instagram in 2012, when Wisdom posted a photo from a trip to Oregon that caught Lafargue's eye.
After communicating through the app (no pesky 140-character maximums here), they eventually met, started dating and recently got engaged. Photos to mark all these milestones have been shared with the general public on Instagram.
The tale of Lafargue and Wisdom is becoming more and more common.
Robin Coe met Matthew Fleming after she commented on one of his cycling photos (a common interest), and after a mutual-follow on Instagram, they're now married.
These love stories — although a little unconventional — sound more successful than the experiences of many friends who have turned to dating sites like Grouper and JDate to find true love, to no avail.
With social media outlets made for sharing becoming increasingly popular — Pinterest was the number one site for sharing, beating out even email in 2013 — it's hardly a surprise that people are using these apps and URLs to source and screen potential partners.
It's really totally expected (What took us so long?) that a site made for socializing has become used for the ultimate form of fraternization: the quest to find a romantic companion, or at least next week's main squeeze.
Dating services have been quick to capitalize on this trend. The app, Glimpse, for example, uses the photo-sharing site to match couples together, with the schtick, "Does your Instagram say more about you than your dating profile?"
That's actually a tough one. Perhaps it boils down to this: Which carefully-crafted-to-be-super-aesthetically-pleasing persona is more like the real you?
Both dating site bios and social media profiles are undeniably the versions of ourselves we want to world to see and consider, but there's often a disconnect between the confident online self and the actual individual nervously checking for "likes" behind the computer screen.
As Instagram continues to grow — 150 million users and counting — it's likely that it will continue to drive shares away from traditional meeting sites geared toward the younger demographic, like OkCupid, which, in comparison, boasted a measly 20 million registered members in 2010.
But where will it all stop? Do we think that just because someone posts pretty pictures, he or she is less likely to be a psychopath in person? Will image-based sites like Vine and Pinterest follow suite and start introducing potential life partners?
On one hand, it makes sense that our daily upload of meticulously-crafted pictures has to be at least somewhat representative of the person we are (or maybe just aspire to be). On the other hand, with so many filters from which to choose, it's getting more difficult to tell the real from the superficial, and it's even easier to simply confuse the two.
Still, perhaps the recent tales of romantic rendezvous through Instagram can provide hope that it is possible to see through the bullsh*t and establish a meaningful connection, strong enough to survive offline.
It's important to remember, however, that just because someone or something appears to be picture-perfect, doesn't mean he or she or it is truthful.
The anonymity of the Internet definitely has a dark side, and occasionally brings out the worst in humanity. Make sure you're aware of the situation into which you're getting yourself. Also know that, like Snapchat, these seemingly match-made-in-heaven pairings aren't always made to last.
Any long-term Tinder relationships out there? Yeah, we didn't think so.
Top Photo Credit: Shutterstock