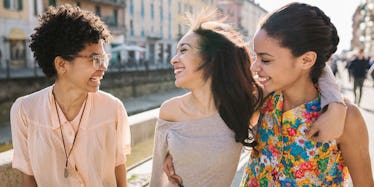 Why #BlackGirlMagic Makes Me Proud To Be A Black Woman In 2016
In case you haven't noticed, black women are having a major moment.
Over the last few years, black women have claimed the spotlight in sports, entertainment and tech industries. In celebration of their efforts, a woman named CaShawn Thompson coined the term #BlackGirlsAreMagic in 2013.
It caught on, evolving into #BlackGirlMagic.
Since then, both Essence and Teen Vogue have rolled out editorials about the idea. Writers laud hardworking black women who've prevailed despite adversity and racism.
Accurately describing this new spirit of unity between black women is difficult. How exactly do I explain why black girls are magic?
The definition of Black Girl Magic lies somewhere between our achievements and our indefinable appeal.
Cori Murray, entertainment editor of Essence, agrees Black Girl Magic is tough to sum up.
"It's hard to break it down, especially in this social media age. Like, how do you do it in 140 characters? You can't," Murray explains, stealing a few moments away from a cover shoot to chat with me. "That's almost denying why this moment is so great."
After only a short pause, she finds the right words.
"We, the black girls, we don't care anymore," she says. "It's okay if you have [racist or sexist] thoughts towards us. We're going to gravitate towards people who aren't putting us into these boxes."
Actress Amandla Stenberg takes the same tone in the newest edition of Teen Vogue. Her interviewer was, notably, Solange Knowles. Case in point.
"As a black girl you grow up internalizing all these messages that say you shouldn't accept your hair or your skin tone or your natural features, or that you shouldn't have a voice, or that you aren't smart," Stenberg says. "I feel like the only way to fight that is to just be yourself on the most genuine level and to connect with other black girls."
Being black and a woman means battling twice the oppression.
Turn on your nightly news or scroll through Black Lives Matter leader DeRay McKesson's timeline to see how dismissive society can be to black people.
"It's hard to not to look at [Black Girl Magic] through the lens of the Civil Rights movement, slavery, all of these very negative things that have happened to us," Murray explains.
Imagine being oppressed by cultural history and being a woman, on top of it all.
I can't recall when I finally broke free from the laundry list of stereotypes society places on black women.
There are a string of experiences that have given me overwhelming pride about my full lips (not Kylie-inspired), the sway of my hips and my kinky, natural hair.
Splashed on magazine covers and across Twitter timelines, Black Girl Magic reaffirms and magnifies what's great about being a black woman.
Even when the irrational insecurity of wearing my mane to a job interview or the sting of colorism hits, Black Girl Magic is a reminder that my place in the world matters.
"Constantly surround yourself with [Black Girl Magic] inspiration," Murray suggests, mentioning black girls of the moment Willow Smith, FKA Twigs and Yara Shahidi. "Listen to these young black women and let them inspire you."
Teen actress Zendaya Coleman, for example, took a public stand for black beauty last year. Mattel honored her with her a one-of-a-kind Barbie doll.
"When I was little I couldn't find a Barbie that looked like me, my...how times have changed," she wrote on Instagram.
Because of Black Girl Magic, young black women will never doubt their value.
Chalk it up to Black Girl Magic, at least in part.
"My daughter knows she's black, but I love that it's not the first thing she thinks about if she's shunned on the playground," Murray tells me. "That's not her first thought, where as sometimes that would be my first thought."
Young black women, climbing the professional and personal ranks, will own their identities. Internalizing the movement, they'll support one another and be more vocal.
It's often said that life is about growing into who you are.
Black women, however, must first strip all the things we were taught to hate about ourselves in order to achieve that.
"[Black Girl Magic] allows us to be seen in all of our glory," Murray says. "We've been denied that freedom for so long because of our skin color, because of our gender, but now all of those things none of those things matter."
Black Girl Magic has gained nationwide attention. It has me to celebrating peak black excellence with my sistas, both on and offline.
Black Girl Magic is ours. It is us.