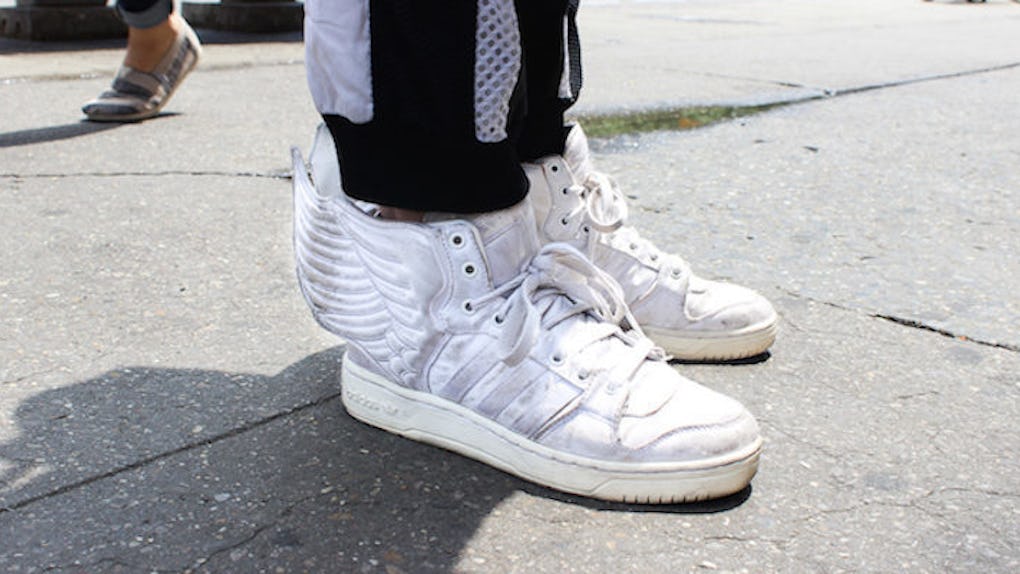 Celine Rahman
18 Women Share Why White Is The Go-To Shoe Shade Of The Season
It turns out Grandpa isn't the only one rocking white kicks.
Wearing white on your feet has become so universal, it's almost impossible to go anywhere without seeing these shoes.
Despite their lack of color, white shoes make a huge style statement.
Every shoe has a story behind it. Some people keep their kicks squeaky clean while others prefer to scuff up their shoes.
The shoes tell the story of the wearer; we just have to listen.
We chased down real NYC street feet to unveil just how totally kickass wearing white can be.
High-Top Chuck Taylors
"They were presents from our mom, they fit with everything." -- Maren D. and Jenny D.
Reef
"I just bought them for comfy walking shoes." -- Sarah F.
Teva Freewheel
"I got them in R.E.I. on sale for like 10 bucks!" -- Annika G.
Birkenstocks
"They're comfy and wearable." -- Jae C.
Teva Flatform
"They were a gift from my mom, she picked them out, she has good taste." -- Ruby R.
Rag & Bone Kent Low
"They remind me of Common Projects, but they're a little bit cooler." -- Jaclyn W.
Personalized Nike Flyknit
"I customized them, but I wanted 'the look.'" -- Mariella T.
Jeremy Scott for Adidas
"I like the wings, I wear them with regular dresses." -- Edda G.
Nike Huarache
"Last week I wore them with a skirt and a sweater, today I'm wearing them with leggings." -- Jazmin M.
Gianni Bini
"My grandma actually picked them out for me, she said they would be trendy in the big city." -- Rachel C.
Vans SK8-Hi
"My friend had them and I liked them on her, so I bought the same ones." -- Olivia L.
Superga High-Top
"These are very me, they're not so girly." -- Anabel M.
Puma Match
"I've always liked Pumas, I like the shape of them." -- Joanne H.
Stan Smith Adidas
"I wore these shoes when I was young." -- Geovanna C.
Asics High-Top Tigers
"I only buy Tigers." -- Mary G.
Converse Low-Top
"I preferred eggshell over white, because everyone has white." -- Evelyn L.
Vans Leather Slip-On
"My son is 28, he told me they were cool." -- Jo S.
Aldo Hinshaw
"I was gonna get some blister pads, but instead I went to Aldo." -- Madison L.