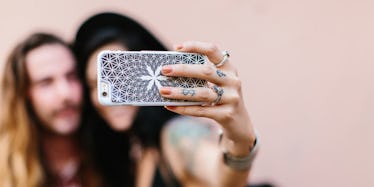 This Is What Your iPhone Case Is Really Saying About Your Personality
Phone cases are like condoms. You buy both to protect yourself from stickiness and bad decisions.
Just like condoms come in different flavors, phone cases are strictly personal preference.
An iPhone holds on to your identity, dirty secrets and all things personal. You can't play it too safe.
How you choose to protect yourself says more about your identity than you ever could.
1. The friend who can't stop taking selfies brings her own lighted case.
This lady and her squad are all about the limelight.
Every photo posted to Instagram from this phone is flawless, and you'd better believe its light will shine everywhere you go.
From brunch to the club, this woman selfies her every move.
Buy your own: Illuminated Cell Phone Case, Lumee, $50
The "mom" of the group needs a rechargeable battery case.
The woman who owns a charger case is unquestionably in charge.
She's always prepared and wouldn't be caught dead without extra floss in her bag. In short, she's the ultimate lifeline.
Buy your own: Juice Pack Air, Mophie, $100
The responsible one uses a wallet case so she'll never forget her ID at home.
This case is carried by the lady who recites phone numbers from memory.
She can't go anywhere without her phone or her wallet. On Friday night, she gets the whole squad into the club and buys them all drinks.
Buy your own: CandyShell Card Case, Speck, $29
The lady who's always hustling doesn't bother to repair her cracked case.
A broken case speaks for one who is always scheming and looking for her next great adventure.
She's living on her last dollar and doesn't mind the fact that her case is cracked, as long as the phone still functions.
Buy your own: Local iPhone repair, iCracked, prices vary
The friend who's not trying to deal with the drama relies on a bumper case to deflect blows.
This person plays it plain and simple.
The less she has to deal with tough situations, the better. The same goes for bright colors and fancy designs.
This person to drops her phone and picks it back up at least twice a day, continuing on her way without any drama. It's just the way she reacts to interpersonal problems.
Buy your own: Defender Series Case, OtterBox, $44.92
The woman who owns Hello Kitty everything decorates her phone the same way.
This case owner is a princess, always has been.
She has a sweet and kind presence, like a kitten, and expects the same from everyone else in the room.
Buy your own: Faux Leather Case And Lanyard, Hello Kitty, $30
The budding artist likes a visual motif on her case.
An artist is never too overdone, but seeks out inspiration in every aspect of life.
You won't catch her wasting their time on designer fads. She's a trendsetter.
Buy your own: Vintage Clear Case, Etsy, $15
The friend who's still into cartoons plays up her favorite superhero.
This case owner avidly reads comics and lives for everything Marvel.
She'll never grow up and that's for the best. Her inner child is always present, making her a hero in disguise.
Buy your own: Iron Man Case, Society6, $35
The lady who lives by name brands has the most stylish, pricey case on the market.
She's committed to the designer name and takes style seriously.
Like a walking mannequin, she's dedicated to the completion of her look. Her closet is updated for every fashion season.
Buy your own: Spray Bottle Case, Moschino, $95
The woman who only wears pink picks the girliest case she can.
Glitz and glamour are the words that best describe this person, who loves everything pink.
She lives to be the center of attention and will always be done up.
There's never a false lash out of place.
Buy your own: Liquid Sparkle Glitter Case, ASOS, $21
The pal with the giant purse even has a bag for her phone.
The purse case is for the woman who carries duffle-size totes.
She's got everything they needs and, frankly, a ton she doesn't. From dumbbells to nail files, she's practically a walking Walmart.
That bag still isn't enough, because she needs a purse for her phone.
Buy your own: Dark Purple Royal Indigo Case, PurseCase, $30
The woman who wants to adopt every animal she sees has an equally adorable case.
This get-up is perfect for the woman who's obsessed with her pet. She's the one who won't stop talking about animals.
When she sees someone else's pet, she squeaks like a dolphin. Nothing in this world is more precious to her than the existence of animals.
Buy your own: Rabbit Ears Silicone Case, WYLTD, $4
The trendy friend has cool sh*t before anyone else.
This is the person who, by age 8, had every Beanie Baby she wanted. She always has the latest of everything.
Nobody can top her, because she'll always have something better.
Buy your own: Lava Lamp Case, Tie Dye Closet, $15
The woman who gives no f*cks doesn't even bother with a case.
This woman lives the YOLO lifestyle, putting off buying a case because she can't find the perfect one.
One day, she'll end up dropping her phone. To her, calling someone to fix the cracks is just a waste of time.
Buy your own: AppleCare Plus Plan, Apple, starts at $79
The friend who's deeply obsessed with her relationship shows it off on her case.
The photo case is for a woman who loves her significant other so much she needs to showcase it on the back of her phone.
You can count on her to post Facebook statuses filled with lots of love for her partner. Every hour, on the hour.
Buy your own: Photo Case, SnapFish, $35