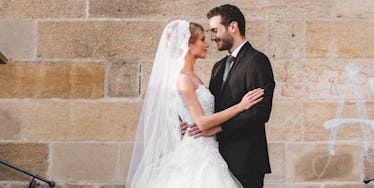 How Your Pinterest Board Could Be F*cking Up Your Wedding Expectations
If you're a 20- or 30-something-year-old female on the Internet, chances are you've made a wedding Pinterest board. Don't be embarrassed; over 70 percent of brides were pinning before their wedding.
Even the most cynical of women can't help but indulge in their love for flower crowns, mason jars, lacy tablecloths, diamond rings, rustic outdoor settings, white gowns and matching bridesmaid dresses on Pinterest -- husband not required.
If I had my Pinterest wedding, for example, I would get married in Carmel-by-the-Sea, California in a small inn that's preferably set in a valley of mountains while wearing an off-white, lacy, body-hugging (no poofs!) dress with a low, open back and delicate straps, and I'd style my loosely curled hair in either a half up/half down look or in a low updo with face-framing pieces falling out.
I still can't decide if I want a flower crown, if I want my bridesmaids to wear the same dress in the same color or variations of the same dress in similarly toned colors or what my signature bride cocktail would be -- I still have to consult my Pinterest board and sigh whimsically some more.
My wedding board on Pinterest, plus the millions of others, is the perfect place to indulge in my wildest romantic dreams.
I'm nowhere near ready to get married yet, but I'm definitely ready to fantasize about it.
Unfortunately, however, it appears as though my fantasies might come at a cost.
An interesting study conducted by Megan Keller of Hanover College suggests that women who have wedding boards are more likely to be disappointed if their real wedding doesn't meet their Pinterest wedding expectations.
Keller describes pins on Pinterest wedding boards as "unrealistic pins." These pins don't necessarily have to be items with known price tags nor do they have to be items the user can afford.
Merely looking at a picture of something related to a wedding (and not even pinning it) is enough for a woman to "trap herself" in a cycle of high expectations for her wedding.
Women with Pinterest wedding boards were more likely to assume the mentality that their wedding is "all about the bride."
This is likely because, as Keller hypothesizes, women who pin feel like they're doing all the wedding planning, so they feel justified in saying it should be all about them anyway.
It also could be they don't yet have a fiancée with whom to share thoughts of the big day, which increases those feelings of ownership of the day.
Women could also use their wedding boards as a way to cope with their need to acquire lots of materialistic goods that are out of their financial reach.
This might seem therapeutic, but if a woman places a lot of value in the material goods on her wedding board, she's more likely to experience disappointment if her real wedding doesn't match her Pinterest wedding.
But are women really this delusional? Do we really think our Pinterest wedding boards, where we've accumulated potentially millions of dollars worth of expensive wedding materials and elaborate, outlandish details, are actually realistic?
Asheville-based wedding planner Sara Fields tells The Washington Post she encourages her clients to pin, but she also knows how easy it is to get super invested in the process, so she she tells clients to stop when they feel like they're putting too much pressure on their decisions for the big day.
Fields says,
I'll have a bride who stayed up all night with a bottle of wine, and pinned and changed her mind. You kind of can't stop yourself... You [start] second guessing. 'Oh, I thought I wanted this.' It's a lot of additional stress.
Fields believes you can get more invested in pinning than you would in flipping through a bridal magazine because the act of actually pinning, the act of doing something, makes you invest more in the reality of that thing coming to fruition.
A student at Michigan Law and good friend of mine doesn't think Pinterest is any more than just digital scrapbooking.
And she loves using Pinterest to fantasize about her wedding, no matter how much it might potentially heighten her expectations of her real wedding.
She says,
It's just like a fantasy in general. One can fantasize about having kids without necessarily fantasizing that the guy you're casually seeing is the dad... It's pretty. It's like making an inspiration board for working out, or cooking or prom hairstyles. I don't think anyone really expects the real thing to come out like that. It's just a place for ideas.
As long as you remember your wedding board is a means through which to indulge in a fun fantasy -- and that not too many people can afford that $300-per-guest cottage in scenic Northern California anyway, regardless of how many times they pin a picture of it -- pin away, ladies. Pin away.
And while you're at it, check out Vogue's recommendations for the best wedding boards to follow. They're amazing.