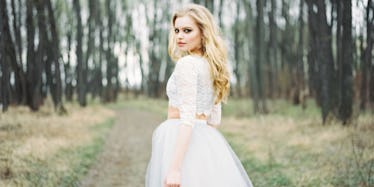 5 Crucial Things To Consider Before Picking Out Your Dream Wedding Dress
Milles Studio
I was the kind of girl who knew exactly what I wanted my wedding dress to look like. I spent my entire childhood planning my wedding, from the centerpieces to the venue to, obviously, the dress.
As a kid, I wanted a typical princess dress with layers of tulle, a giant bow at the waist and a strapless bodice. Basically, the more I resembled a wedding cake, the better. Then, reality set in. Strapless things do not look good on me. A gigantic tulle skirt might look beautiful on tall women, but as someone of average height, it would swallow me whole.
Whether you're in the process of picking out dresses or just love them enough to dedicate an entire Pinterest board to them, here's what you should keep in mind.
Treat dress shopping like bikini shopping.
Same goes for wedding dress shopping. If you're going to be butt-naked in a room full of women helping you squeeze like a sausage into a glorified tutu, you'd better feel confident. Whatever makes you feel your best — be it a spray tan or red lipstick — do it.
It'll make you feel less like a kid trying on expensive clothes and more like the perfect princess you are.
Focus on fit first. The rest can come later.
The beading or extra layer of lace can be easily fixed. The mermaid hem cannot.
Also, keep in mind that just because it looks great on your Pinterest board doesn't mean it will translate well to your body. As with bathing suits, jeans and just about every other article of clothing you own, you need to work at figuring out what style is really "you."
Pay special attention to your bodice.
The neckline is a key part of the dress. Larger-busted babes can rock sweetheart necklines, while girls with smaller boobs would look stunning in a strapless or a bateau neckline.
Keep your upper arms and armpit vagina (yep, I went there) in mind, too, because ill-fitting strapless gowns can create extra flab. If that's a concern for you, opt for a halter neck or a gown with sleeves, a la Kate Middleton.
Think about weight.
You're going to be in this gown for upward of eight hours. Wedding dresses are heavy as f*ck, and even more so when they're beaded and covered in sequin appliqués. Even wedding dress shopping is hard. One writer at Bridal Guide likened trying on dresses to a "workout." Trying on multiple gowns would leave a bride "ravenous" and in need of a nap.
If the idea of wearing a 10-plus-pound gown doesn't appeal to you, opt for lightweight fabrics, like silk, crepe and charmeuse. Stay away from brocade, moire and any heavy bead detailing.
Take other people's opinion into consideration.
Listen to the salesperson buttoning you in —they know how many people walked out with the exact same dress you're trying on this month. Listen to your friends, because they're going to give it to you straight. Your mom is probably helping you pay for the damn thing, so listen to her, too.
Whatever you do, don't bring everyone you've ever met (like your yoga instructor and your high school English teacher) to go dress-hunting with you. That many opinions will tune out the most important ones.
Actually, f*ck all that and just wear a glitter bodysuit. You're welcome.