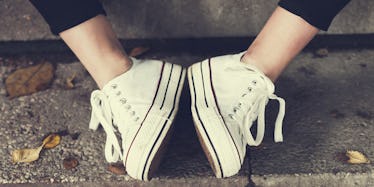 The 'Cool Way' To Wear Your Sneakers Without Looking Like a Gym Rat
As a chick raised primarily in New York City, my life consists of an awful lot of running. Okay, not the traditional "training for the marathon" kind of running, but it's running nonetheless. I run to the office, to grab coffee, to walk the dog, to go to brunch, to dinner with friends, to a meeting.
As much as I'd love to channel my inner Carrie Bradshaw and wear my Jimmy Choos all over Manhattan, let's be real: I can only walk about five minutes in anything over three inches.
Luckily for me and my extremely lazy ankles, sneakers have become a thing in the fashion crowd. Street style gurus, Cara Delevingne and goddess Gigi Hadid have all worn kicks to resounding acclaim.
While I used to laugh at women who wore white nurse-esque kicks with their pencil skirts and pantsuits, I now fully get it. Sneakers are comfortable and look fly as f*ck -- if worn right, of course.
Here's how to wear sneakers without looking like you're late to gym class.
When you thought you were going to a dive bar but ended up at a classy rooftop lounge.
Friends can sometimes suck. Instead of the chill, low-key night agreed upon via group text, you're now dragged to a fancy party on a ritzy rooftop with a view to kill.
Pair the leather leggings you'll live in all winter with a lace crop top. If you're going to be outside and don't want to freeze your ass off, throw on a duster coat or a trench.
When you finally agree to meet that guy your mom has stalked for you on JDate.
Okay, he's cute, never been married and has no kids. Maybe you should attempt to look halfway decent for this one?
Pair your favorite date dress (a strappy LBD always does the trick) with a pair of metallic sneakers. A graphic clutch is a perfect way to yield some personality, too.
Good luck, may Hashem be with you.
When the wedding is "black tie," but you'd really rather not.
Don't be that girl who kicks off her heels halfway through the reception. You're not a freshman at the homecoming dance.
Opt for a pretty lace dress with sheer mesh panels. It's a great way of showing skin without the bride (or her family) giving you dirty looks.
The cap toe on these kicks lends a badass vibe and look way more uncomfortable than they'll actually feel.
When you know you're going to run into your ex's new girlfriend at the party.
Show that bitch who's boss. Opt for a curve-hugging midi and leather jacket for a Lara Croft meets Kim Kardashian look. No need to opt for teeter-tottering heels, just go for your favorite high-tops.
You'll look like you totally don't give a f*ck, or at least she'll think so.
When you have to run cross-town for a meeting.
As they teach all diehard New Yorkers, black will never fail you. It works for cocktails, dates, nights in and it sure as sh*t works for the office.
Pair your favorite tapered, cropped black work pants with your chunkiest black knit. Throw on a crisp white button down underneath and a pair of Nike Flyknits, and you're all set to conquer the wage gap.