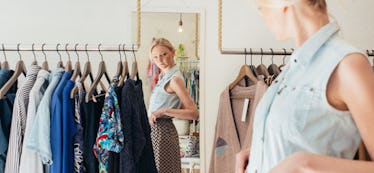 15 Ways To Love Your Body, From Someone Currently Learning To Accept Hers
Julien L. Balmer
In case you haven't noticed, we're in the midst of a self-love awakening. Or, at least I am. I'm not sure if it's something that happens once you're over the hump of your mid-20s — like a rite of passage sort of thing — or if it's much less profound than that. But at some point, we all just get sick of obsessing over our flaws and decide to try a crazy little thing called self-love instead.
Regardless of catalyst, I'm 26 now, and I've reached that point. For a decade and then some, my body weight fluctuated, and so did my self-esteem. I spent entire summers at the beach wearing cover-ups instead of my usual bikinis because my usual bikinis didn't fit. (In retrospect, I should have just invested in a bathing suit that did fit).
I insisted on only being photographed from one angle (hand on hip, one leg bent, body turned slightly to the side) because I was convinced that with certain positioning, I could trick the lens into thinking I was Kate Moss skinny. (I've never been Kate Moss skinny.) I dyed my mousy hair platinum blonde and wore dramatic makeup with dark eyes, thinking I could disguise my self-perceived flaws in a Barbie-like façade of pink lips and black eyeliner.
I spent so long hating my body that it never occurred to me what might happen if I started loving it. Spoiler alert: It did amazing things. Not only have I managed to lose a little weight, but I've come to appreciate my body for the temple it is, and the incredible things it's capable of.
Most importantly, I'm learning to accept and love my reflection in the mirror (flaws and all). Here are 15 ways to love your body, from someone currently learning to love her body:
1. Listen to your body.
I'm no scientist, but I do know our bodies are incredibly intuitive. Your body knows when you need to eat, sleep, take it easy or have the energy to go harder. Simply listening to it can go a long way in helping you achieve your health goals.
2. Nourish your body.
I recently learned that my body is not a garbage disposal, and continuously feeding it pizza is like putting low-grade fuel into your Bugatti. You wouldn't put low-grade fuel into your Bugatti, right? Your body is a Bugatti.
3. Positive self-talk.
If you wouldn't say it to a friend, a family member or your puppy, then don't say it to yourself.
4. Say "no" to images of beauty from magazines.
If you must read them (even I can admit, the latest Vogue can be somewhat of a guilty pleasure), admire the handbags, but don't be fooled by the Photoshop, the editing and the false advertising. Take satisfaction in knowing that you are every bit as beautiful as the woman on the cover simply because you are you, and beauty standards are a figment of our imagination.
5. Use a body scrub.
I would start out with my personal favorite, Frank. He will make you feel like a goddess.
6. Sweat often.
As Elle Woods once said, "Exercise releases endorphins. Endorphins make you happy!" Also, it's good for your body, your health and your spirit.
7. Dance (naked) in front of a mirror.
Admire your many curves and angles and all the compositions of your skin and muscles and bones. Appreciate your body's movement.
8. Buy clothes that fit.
It's truly amazing what a well-fitting pair of jeans can do for your self-esteem. Stop trying to squeeze into the smallest size because of a beauty industry that praises a size 2. Beauty is not a size.
9. Relax.
Allow yourself the luxury of rest. You and your body deserve it. Set out time for yourself each week to be lazy, read a book, watch a movie or simply spend an afternoon in bed. Do it all guilt-free.
10. Drink green smoothies.
Once you get past the color and the texture, you might find you actually enjoy them and even come to crave them. A handful of spinach, kale and some fresh mango can do your body wonders.
11. Soak.
One of my favorite ways to reward my body for all of its hard work is to take an Epsom salt bath. Epsom salts have been known to flush toxins from your body, relax muscles, aid in muscle recovery, relieve stress, improve your body's ability to absorb nutrients and so on. Pour a cup or two of Epsom salts into a tub of hot water and relax while the salts go to work.
12. Flaunt it.
No matter where you are on your journey to loving your body, be proud of the body you have. It's the only one you have, and it deserves to dance, run, bask in the sun, stand tall, walk, skip, jump and twirl. Enjoy what you have now while working toward whatever health goals you've set out for yourself.
13. Sleep.
Sleep deprivation builds up over time and can have major negative effects on your mental, physical and emotional health. Our bodies need sleep to rest and repair from the day's activity, and it's important to make sleep a priority. If you can't get seven to eight hours a night, try taking a few catnaps throughout the day (just don't let your boss catch you).
14. Treat yourself.
Life's too short to not eat the cake or to not buy the jeans that make your ass look better than the cake. Every once and a while, reward yourself and your body for its utter brilliance.
15. Love it.
Write down a list of all the things you love about your body. Read it and add to it often. I'm not so naïve as to believe that there won't be days in my future where the number on the scale will disappoint me.
I also don't think that from here on out, I will live in a blissful bubble not influenced by mass media, the latest diet trends or the lure of Botox, lip-fillers and wrinkle eliminators. But, I'm making peace with my own unique brand of beauty, and you should, too.