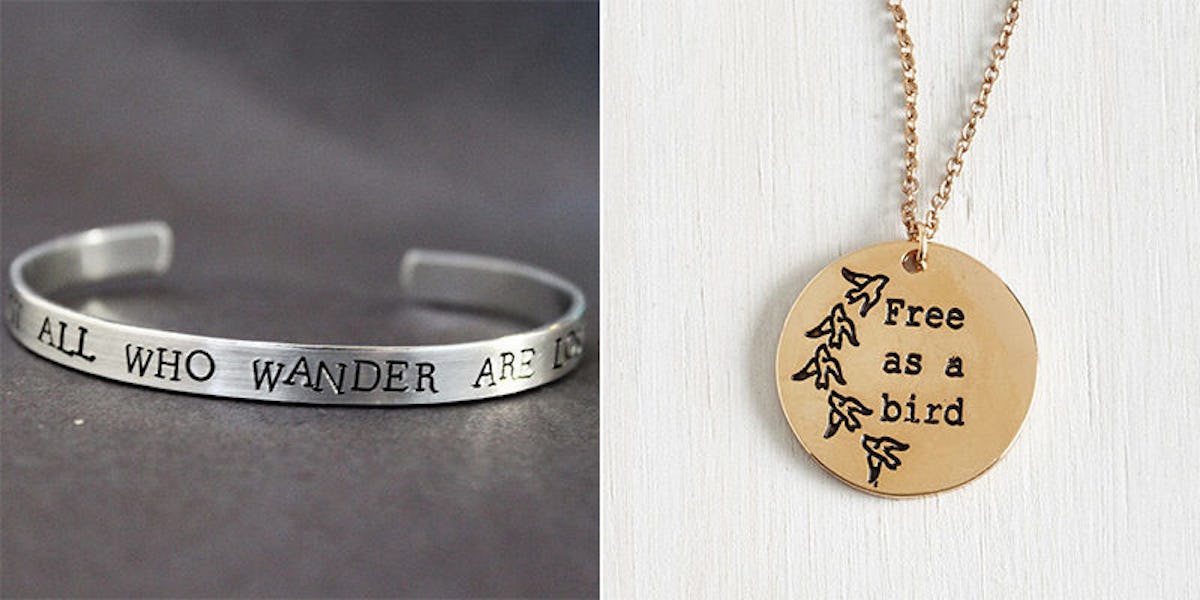 Wear Wanderlust On Your Sleeve With These Travel-Themed Accessories
Etsy, ModCloth
Wanderlust comes in all forms.
There are the free spirits, who, like dandelion seed in the wind, are happy to float across the world and get excited about wherever they land. There are also the big dreamers, who have collection jars labeled "travel fund" and dozens of potential travel itineraries scribbled in a journal somewhere. Some are planners who always have another road trip or flight booked, lest they live without the excitement of another destination solidified.
Whatever kind of wanderlust you have, advertise it with one of these travel-loving accessories.
Let everyone know just how much of a free spirit you are with this "Free as a Bird" necklace by ModCloth. It's a metal charm with typewriter writing and birds.
This necklace will make you yearn for the mountains. Maybe you want something to remind you of a past trip, or maybe you want something to inspire a future vacation. This Mountain Charm Necklace, designed by Padgett Hoke, comes in gold or silver and is modeled after the Grand Tetons in Wyoming.
Etsy is a wonderland of travel-inspired accessories and decorations. This "Not All Who Wander Are Lost" cuff is designed by seller Neon Bison and is made from lightweight aluminum.
Tip: Search the web for the phrase on this cuff (a line from a J.R.R. Tolkien poem) you'll find a lot of goodies.
They say that if you put the energy out there, whatever you want is more likely to come to you. Perhaps if you wear the country-shaped charm of your choice, the universe will take notice.
This BaubleBar "International" necklace listing lets you choose from numerous countries, so dream big. You can also choose from gold or silver metal, and throw a diamond along the rim for good measure.
Show off your jet-setting tendencies with this map-adorned scarf by Kate Spade.
It features a detailed world map on an airy, lightweight scarf, perfect for keeping your neck warm on early mornings, or even your hair in good shape on windy days. You could also tie it around your handbag handle to dress it up a bit.
Every world traveler needs a weekender bag. Suitcases work for the big trips, but if you're heading out for the weekend on a whim, it's easier to just stuff your necessities into an oversized bag and toss it in the back of your car or carry it with you on the plane (cheaper, too). ModCloth makes a bunch of them and they're all reasonably priced.
You know what else a woman with wanderlust needs? A notebook to keep track of all her adventures.
This one, by Anthropologie, comes with "colorful illustrations, guided prompts, storage pockets and fill-in wish lists." Plan for the future and jot down current adventures so you can reminisce later.
Advertising your wanderlust doesn't get much more straightforward than this necklace. Choose from sterling silver or yellowed bronze and let everyone you meet know just how much traveling the world means to you.
Here's another blatant way to tell the world you're a globetrotting wanderlust fiend. This ring, made by Etsy seller BubbleBox, comes in six different metals, including bronze, silver and gold.