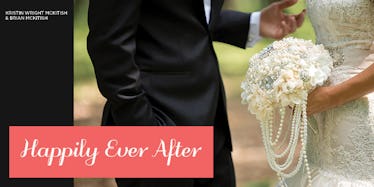 Happily Ever After: A Vintage-Style Wedding To Bring Out Your Inner Romantic
Welcome to Elite Daily's Happily Ever After series, a collection of extraordinarily unique and downright spectacular Millennial weddings showcased in magnificent detail.
It's the ultimate inspiration for brides and grooms-to-be and romantics who just cannot get enough of fairytale weddings.
If your "dream wedding" folder is bursting with photos of vintage décor, vibrant flower bouquets, black tie flair, floating candles in mason jars and delightful cake pops, our Happily Ever After series will fuel you with even more creative vision for your special day.
Welcome to Kristin and Brian McKitish's gorgeous vintage-inspired wedding.
The special day unfolded at the romantic Hall of Springs in Saratoga Springs, New York.
The bride's Lazaro wedding gown was unparalleled, to say the least.
Kristin says she was in awe of every single gorgeous detail, from the gown's delicate lace and ruffles to its elegant buttons down the back. Let's not forget the long train, either.
Instead of fresh flowers, Kristin decided to hold a brooch bouquet, complete with pearls and gems. This stunning creation was made by Elegant Wedding Decor by JoAnne.
Kristin's sisters guided her to meet the handsome groom for pictures.
The day's color palette was all rose gold, black, brushed antique gold and ivory.
The style and bold color of the bridesmaids' dresses perfectly complemented the bride's showstopper of a gown.
Candles, pearls and lace completed the vintage-romantic theme.
The couple's favorite moment of the day? Sealing the ceremony with a kiss.
Cheers to the happy couple, Kristin and Brian!