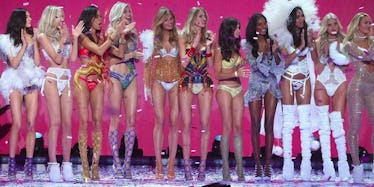 Here's Why I Think Victoria's Secret Valentine's Day Ads Are Offensive To Women
Getty Images
For as long as I can remember, I've been a fan of the infamous lingerie brand that is Victoria's Secret.
In fact, the famous emporium and I have somewhat of a shared history together. It was the label that not only gave me my very first bra, but also my first retail job at the age of 17. So, I guess you can say I'm a bit nostalgic when it comes to the brand.
Who wouldn't be? After all, most women on this planet have had an experience with the company at some point in their lives.
But a recent discovery has me questioning my affinity for the label.
It has to do with the new Valentine's Day advertisements promoting the "Very Sexy Push-Up" bra.
The ads in question feature scantily-dressed models Sara Sampaio and Jasmine Tookes, who pose suggestively for the camera while staring seductively into the lens.
In one ad, Tookes wears underwear with a cut-out back above the rear, while Sampaio sits on a couch donning the same item with her legs spread wide open for all see.
Classy, right? I almost gagged scrolling through the pictures.
Now, I know what you're thinking. How is this ad any different from those Victoria's Secret has produced in the past? Yes, Victoria's Secret is famous for producing racy ads which promote their products and blatantly objectifies the models wearing them.
The company has made a fortune off this tasteless marketing gimmick, and it isn't new information for anyone familiar with the brand.
Just last year, Victoria's Secret released a set of Valentine's Day ads, which featured one of their models licking Reddi Whip from her fingers while donning a red leopard-print teddy.
I'm not sure which was more offensive -- the ad looking like a scene out of a cheap Cinemax special or Victoria's Secret actually thinking red leopard-print lingerie was a fashionable idea.
Now, I'm a huge advocate for the expression of sexuality. I find it extremely empowering when women feel comfortable in their own skin and feel confident showcasing it to the world.
However, the difference now is timing.
It's how Victoria's Secret is vulgarly portraying women during a period when women are fighting for respect.
I think the ads are practically pornography, and depict women in a negative light.
It's especially awkward offensive to me three weeks after the empowering Women's March, where so many individuals gathered together to protect women's rights and prevent them from being treated like pieces of meat.
It's apparent these ads were crafted for the male eye, which is an interesting approach considering the retailer's consumers are pretty much only women.
Victoria's Secret is advertising the wrong way by marketing the models like porn stars. Yes, sex sells. But there is a difference between sexy and trashy, and these ads are absolutely the latter.
"There's a key differentiation between ads that are considered sexy and those that simply objectify women," said Ruth Bernstein, a chief strategic officer at YARD, an image-making agency whose clients include American Eagle, Atheleta, NARS, Banana Republic and Estee Lauder to name a few.
Bernstein, who commented on the issue in an email last year to Business Insider, went on to explain the difficulty brands have when it comes to making women feel liberated.
Bernstein said,
What is truly sexy is the key, and shifts along with the culture and every generation. When you get it right, it still absolutely works and sells. The trick is to understanding that sexy has evolved into celebrating women and who they are, not portraying them as objects for men's gratification.
Bernstein makes an incredibly valid point.
It's challenging for women to be taken seriously if companies, like Victoria's Secret, continue marketing us as objects for men, and that's why these ads aren't "fun" -- they're problematic.