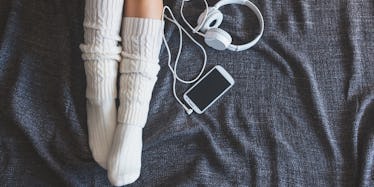 I Tried A Vibrator That Syncs With Music And These Are The Best Songs
Vadim Georgiev

I've always wanted to f*ck Drake.
In fact, it's something I fantasize about frequently. Drake is hot, in the sense that he looks like the kind of guy who would throw me down, tie me up and do things still illegal in some parts of the world.
Seeing as I'm not Serena Williams, nor do I have an inside connection to Drake, all I can do is dream. Basically, every new photo of his biceps is inspiration enough for me and my Drake-fueled libido.
If I'm feeling extra crafty, I make it a point to play one of his songs while getting it on solo. Sure, part of it is to ensure my roommate doesn't hear my vibrator. But truthfully, the sound of his voice is enough to make panties drop.
This weekend, I was lucky enough to test-drive the OhMiBod Freestyle :W, a new vibrator that vibes to the beat of the music (AKA, my Drake playlists). I mean, if I can't get Champagne Papi under my covers, I can at least pretend we're starting from the bottom.
Here are all the songs I've found to be best to vibe along to. These are tried and tested, trust me.
OhMiBod Freestyle:W, $38, Amazon
"Bitch Don't Kill My Vibe" by Kendrick Lamar
Oh, the irony.
Orgasm-worthy: There's something oddly empowering about playing along to, "Hide your feelings, hide your feelings now what you better do/I'll take your girlfriend and put that p*ssy on a pedestal."
"Drop It Like It's Hot" by Snoop Dogg
Personally, I hate this song. I find it grating as hell. However, the beat makes for some really great varying vibe action.
Orgasm-worthy: Literally the entire chorus. Okay, Snoop, I'm dropping it like it's hot, I'm parking it like it's hot and oh, I'm definitely popping it like it's hot.
"Partition" by Beyoncé
Surprisingly, "Drunk in Love" was more like "Naps in Love" because all the vibrator did was chug along. Girl needs some variety!
Orgasm-worthy: Pretty much the entirety of Yonce. "Radio say speed it up/I just go slower?" Yes, Queen Bey, I do.
"Baby One More Time" by Britney Spears
I'm not proud of this one, but the beat worked surprisingly well with my freestyle. Don't ask.
Orgasm-worthy: Sadly enough, "My loneliness is killing me." You can't make this up.
"NEW DORP. NEW YORK" by SBTRKT ft. Ezra Koenig
This played during a particularly awkward sex scene on "Girls," which basically means this song would be amazing to play to.
Orgasm-worthy: "My girl got a minimum/Keep it stuck right there 'til the number comes." That beat though.
"Drip Drop" by the "Empire" Cast
You feel embarrassed about knowing all the words to this song, yet you secretly play it in your head every time you get it on. That Hakeem and Tiana drama, though.
Orgasm-worthy: By the second hook, you're bound to be dropping and dripping.
"Delirious (Boneless)" by Steve Aoki
Somehow, my favorite song to play while getting ready for the club is also great when synced up to my vibrator. Boneless, indeed.
Orgasm-worthy: Any time you tell me to give you "some of that," I will.
"Started From the Bottom" by Drake
Orgasm-worthy: Literally, every time the chorus plays. Virtually every time.