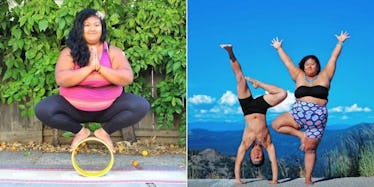 This Woman Is Teaching The Importance Of Self-Love With 'Big Gal Yoga'
Valerie has been practicing yoga for a little over four years now.
Based out of the San Francisco Bay Area, Valerie runs an Instagram account, Big Gal Yoga, that now has over 50,000 followers.
It features a number of impressive yoga poses, cool yoga pants and a very clear message: People should love themselves no matter what.
On her Tumblr, Valerie wrote,
I just hope to keep spreading self love through yoga. Loving ourselves is such a radical thinking. I know that we can't always love ourselves all the time, but we should have a good understanding of ourselves physically and mentally. To try and not to tear ourselves down about such small things.
Intrigued? Check out some of Valerie's awesome posts.
She has great balance.
She takes us on journeys to beautiful places.
She's not above a laid-back selfie.
Her crow pose is on point.
So is her tree pose.
Her backbends are awesome.
Her headstands are badass.
She knows when it's time to relax and acknowledge she's enough.
The cartoon version of her is also awesome.
Did we mention she has the best yoga pants?
She makes a tree pose in a graduation gown look easy.
The best thing about her? Her inspirational messages.
Well, we're officially inspired.
Citations: Our New Favorite Yogi Is Teaching Us All About Body Confidence (Refinery29)