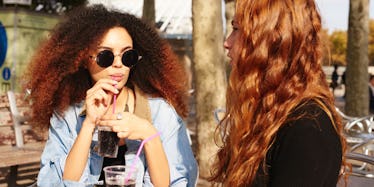 How To Say 7 Tough-Love Things To Your Bestie Without Hurting Her Feelings
Ah, best friends: the people with whom we share our thoughts and feelings about everything and anything (except how we're feeling about them, of course).
It's totally natural that you and your bestie will go in and out of sync, follow different paths and maybe even fall completely out of the friendship for a while. But some of the separation and weird feelings about the growth of your friendship can be relieved with a bit more transparency and compassionate truth telling.
Here are a few things even the closest of pals wish they could muster up the courage to share with one another:
1.  "It seems like you are coasting through life."
A lot of our bestie friendships sprouted when there was a level playing field, before we developed a sense of self or any life direction. Sadly, a lot of us have that one friend who just didn't amount to the hopes and dreams she gabbed about in high school. She simmered out somewhere in her 20s.
Your want the friendship to be mutually motivating, but it rarely is. To avoid being the one who brings all the "what I'm up to" news to the conversation, you just talk about whatever makes you feel comfortable. If the friendship seems to be lacking in depth, try having a conversation with your friend about her goals. Let her know that you see potential in her, and that you want to see her stop coasting through life.
2. "I want to spend more time with you, but I can't stand your kids or your spouse (00ps)."
Does your bestie's kid give you anxiety each and every time she brings him or her with you on lunch dates? Does this prevent you from having adult conversations?
It may also make you cringe when she constantly has to "ask" her spouse if she can go out. Your friendship is at the mercy of her spouse, and that's not cool.
It's natural to want to cling to your single-girl youth for as long as possible. However, it's important to acknowledge that motherhood is hard. Your friend is doing everything she can to keep up with both her friends and her motherly duties.
3.  "You could use a new look."
This is always hard to tell your friends: "Your haircut is outdated, your unmentionables are ill-fitting and you've been wearing the wrong foundation color for years."
It's understandable because you love your friends, and you want them to look their best. Looking good makes women feel good.
If you know someone who is usually put-together in the style department, ask her to book both you and your friend appointments with her stylist. Maybe have a girls' shopping day, where you can show her around your favorite stores.
4.  "I need to feel supported in the same way I support you."
Although you may have your sh*t super together, it's still important to vent and have your friend's support when things get tough.
If you are on the other side, constantly dumping your issues onto her but never reaching out to see if she needs anything, she may be questioning your friendship. Strong friends need love and help too.
5.  "I don't want to schedule time with you."
We're all busy, but taking rain checks on cocktails with your main girl isn't the way you maintain a friendship. Pop up to her job for lunch, or drive over and ring her doorbell like you did as kids. This is your best friend, so treat your time as such.
6. "You aren't using your talent."
Your BFF has watched you grow, and she knows the things that truly make you happy. It hurts to see your friend -- who could be doing so well by living through her passions -- just waste away while doing mindless work.
You want to see her put her talents to use, so that you can be her number one cheerleader.
7. "I love you."
Your really do love your BFF, even though you may not say it. You want her to live her wildest dreams and be the best person she can be.
Sometimes, that love is a bit tougher than we would want. But it's worth it.