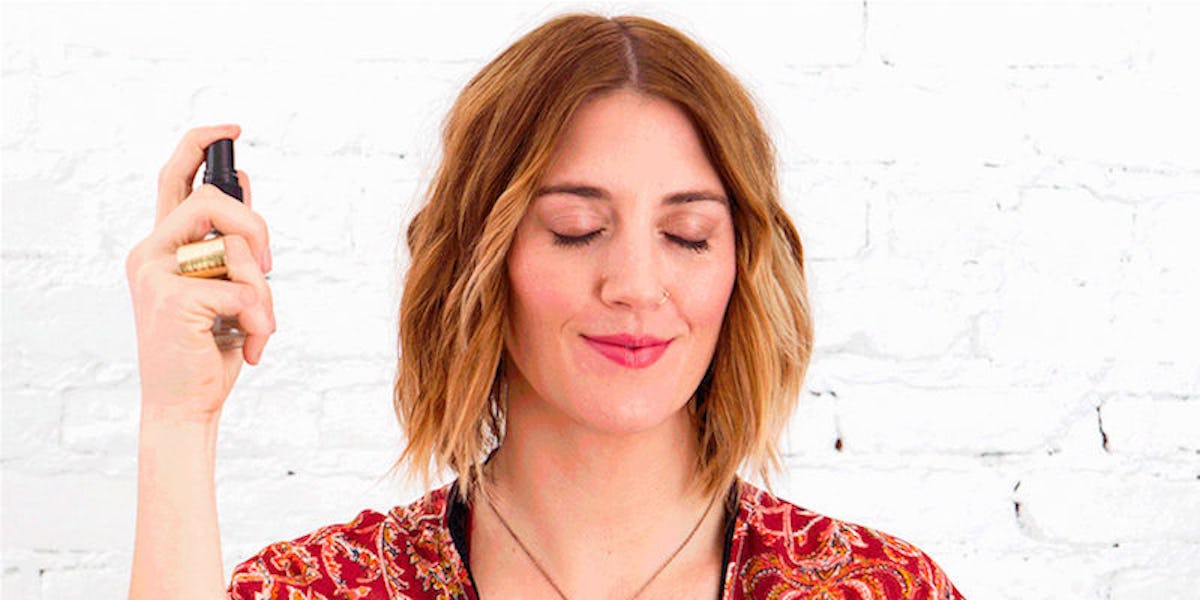 This In-Flight Beauty Routine Proves Travel Doesn't Have To Ruin Your Skin
Kurt Andre
Even though it's the time of year where our travel schedules amp way up, our beauty routines do not have to suffer — and you don't have to be an expert to pull it off!
Be mindful of how winter weather affects your skin in all situations (for air travel, that means you'll endure extra dry air during your flight). Downsize your carry-on beauty stash, leaving the statement makeup in your checked bag or skipping it entirely. The key to nailing here-to-there beauty is pretty freaking simple: Hydrate, hydrate, hydrate.
I have been doing the same in-flight beauty routine for years to protect the integrity of my skin but still feel glowing, fresh and gorgeous. I rely on 13 products that fit in a makeup bag, all of which I'm sharing with you here.
What To Wear Before Your Flight
Travel Size Face Serum, $76 (Facial Care Kit), Fig + Yarrow: I start my in-flight beauty routine by applying a hydrating face serum to my skin before my moisturizer so that it can absorb deep into the layers of my skin. The essential oils in this serum are highly restorative and create a soothing scent.
Vichy IDÉALIA Skin Sleep Night Recovery Gel-Balm, $35, Ulta: Next, I apply this restorative night cream to my face prior to leaving for the airport. The trick here is giving your skin a deep advanced night treatment that will absorb wonderfully while you are in the dry cabin air.
Japonesque Color Radiance Primer, $32, Amazon: I skip my foundation application because I always find that it ends up wearing off mid-flight anyway. This is my hack to feeling like my skin looks more vibrant and awake. Apply this illuminating primer to your cheekbones, to the bridge of your nose, your cupid's bow, your brow bones and the inside corners of your eyes.
In-Flight Beauty Routine
Travel Toothbrush, $6, Amazon: Right before I start to apply my makeup, I take a bottle of water and do a quick tooth brushing session to make get myself feel fresh and ready to go. Trust me, this is clutch.
Travel Size Complexion Water Mist, $76 (Facial Care Kit), Fig + Yarrow: Once I get back to my seat, I bust out my water complexion spray and lightly mist my face down to refresh and awaken my skin. I almost always end up sharing this step with my seat neighbor because they are immediately intrigued by the scent and want in on this action!
Kari Gran Lip Whip in Peppermint, $16, Amazon: If you are anything like me, flying takes an absolute toll on lips — they almost immediately chap, feel sore and are not pretty to look at at all! That said, this is probably one of my most favorite lip conditioning treatments ever. The peppermint whip tastes amazing and is all natural, so it actually acts as a treatment rather than a coating.
Rohto Cooling Eye Drops, $6, Amazon: Probably the most intense eye drops you will ever use. These babies are so strong, and my goodness, do they work. Add a few drops to your eyes and sit back with your eyes closed to let them absorb. These eye drops have the same effect as drinking a cup of joe — you have to try them!
Supergoop Daily Correct CC Cream SPF 35+, $32, Amazon: Now that you essentially gave your skin, mouth and eyes a much-needed reset, it's time to glam up! Apply your foundation or tinted moisturizer with a brush, making downward strokes and blending into your skin by tapping your fingers gently on your face. I like to use a CC cream that's lightweight and hydrating.
Urban Decay Naked Flushed Palette, $34, Sephora: Next, you want to bronze, highlight and give a little pop of color to your face. I am obsessed with this Naked palette because it is a one-stop shop for all of these things. Here is a more extensive tutorial on how you can do this quickly.
Smashbox Double Exposure Mini Palette, $24, Sephora: Now that my face is alive and looking flawless, it's time to doll up my eyes. Apply the lightest color to your brow bones, inside corners of your eyes and onto your eyelids to highlight and brighten. Apply a medium shade to the creases of your eyes, and you can even go further and deepen the look by adding a darker color to the outside creases and along the lower lash line.
Benefit Cosmetics Roller Lash Mascara, $10, Amazon: MY. FAVORITE. MASCARA. EVER. Pro tip: Using a full tube of mascara on a flight is a waste because the altitude totally dries it up. Plus, this mini version is totally cute!
All these little gems will stow perfectly in your carry-on makeup bag. Make sure to bring a hand-held mirror and your makeup brushes in flight as well, unless you prefer to save space — you can always do this same routine using your fingers. You will never leave an airplane feeling dingy and lifeless again!
What are your favorite travel-size makeup items? Share in the comments below!