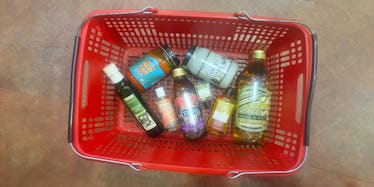 The Surprising Beauty Purchases You Should Be Making At Trader Joe's
Every beauty cure you'll ever need lives in one place: Trader Joe's.
The tropically themed grocery store woos you every week with its bargain-priced bananas and affordable organic avocados, but that's not the only glorious value it's hiding. In between dried plantains and canned beans, Trader Joe's plays host to a veritable treasure trove of beauty products.
We're not talking about eucalyptus-scented shampoo (although that's a favorite, too). It's the oils that interest us.
When coconut oil took off, the beauty community was quick to wonder if its multitude of uses would quickly reveal themselves as a misled fad. In 2015, however, the fresh-smelling white goo is still going strong.
Now that we're no longer rushing to stock up on oil-free cleansers and shampoo, it's time to embrace the oil thoroughly. Beauty lovers have been doing the same for centuries: Ancient Egyptians, for example, loved to rub down with body oil to keep their skin shimmering.
Oils make your hair and body healthier, heal scrapes and can even give you whiter teeth. They're the one-stop beauty product your stash has been missing.
Best of all, these varied oils are available in one spot, so you can pick a bottle up between grabbing canned cat food and protein powder.
Jojoba Oil, $12, Amazon
What is it? The greatest oil you've never heard of, extracted from the seeds of the Jojoba (ho-ho-bah) shrub. Although traditionally utilized by Native Americans, jojoba oil hit larger markets in the 1970s.
Try it: Use the oil for massages, removing heavy makeup and moisturizing dry lips. It also acts as both a facial cleanser and conditioner.
Vitamin E Oil, $9, Amazon
What is it? This tiny bottle boasts antioxidants galore, making it a health nut favorite.
Try it: For healing scars, evening out hyperpigmentation and brightening your complexion. Also, try it for reducing dryness of the cuticles and healing over razor burn.
Organic Virgin Coconut Oil, $8, Amazon 
What is it? If you've been anywhere near social media, chances are you've heard of coconut oil. The product, made from the nut of the coconut, has plenty of saturated fats that many claim aid in weight loss.
Try it: Swish a little coconut oil around your mouth to whiten teeth and reduce bad breath, or use it as lube (avoid latex condoms). The miracle spread also works to remedy stretch marks, soothe itchy eczema, and heal sunburn.
Tea Tree Oil, $10, Amazon 
What is it? Don't be fooled by its small amount, a bottle of tea tree oil is so powerful it's often diluted before use on skin. It comes directly from the narrow-leaved tea-tree.
Try it: Use the oil on minor scrapes and cuts -- it's a natural antiseptic. In the same vein, apply it with a q-tip to cystic acne to dry up pimples quickly. It also relieves itchiness from bug bites and eases sore muscles caused by tough workouts.
Red Palm Oil, $5 for 16 fl oz
What is it? The latest craze in healthy oils, frankly. Red Palm Oil, created from pressed palm fruit, is loaded with Vitamin E and unsaturated fats.
Try it: The Vitamin E-packed oil is a fabulous asset to hair that's weak or damaged. Use the oil to make a DIY shampoo bar, hair mask or a replenishing body soap.
Extra Virgin Olive Oil, $4 for 16.9 fl oz
What is it? Pressed olives, sure, but it's helpful for more than just a flavorful salad or a topping for you mom's best pasta dish.
Try it: When applied with a cotton pad, the slippery liquid removes even the most stubborn waterproof mascara. You can also combine it with honey for a softening face mask, or stir in a spoonful of sugar for a DIY exfoliator.