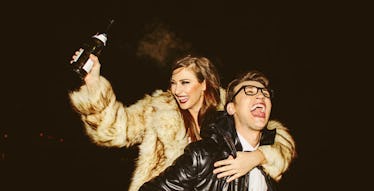 This Super Hot Subway Security Guard Is Reason Enough To Go To Brazil (Photos)
Stocksy
When I think of hired security guards, my mind tends to veer towards the overweight and slightly ineffective mall cops on segways.
But Brazil apparently is a better place, where the subway security personnel look like models and (with those abs?!) could take me in for questioning anytime.
Meet Guilherme Leao from Sao Paolo, recently voted the hottest security guard working the subway system.
First get over the fact that in Brazil, they have enough options to be able to determine such an honor. Then scroll down to see pictures of Leao.
Warning: they're good.
When he's not, you know, making those underground tunnels a safer place (insert crude joke here), Leao is taking to Instagram to showcase his hotness and those eight pack abs.
He's also kind enough to pose with adoring fans, and somehow also has some clearly professionally-edited modeling shots.
What can we say? This man's a multi-tasker.
Keep on keeping the subway system safe. Shirtlessness is encouraged.