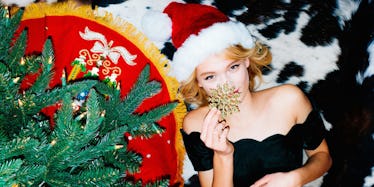 10 Things I'm Dating Instead Of A Man This Holiday Season
I'm flying solo this holiday season. No point in being sad about it.
At least I don't have to share all the Christmas cookies I'm stuffing in my face.
Everyone always tells me the holidays are the epitome of cuffing season. To that, I say bullsh*t.
I don't need a man to channel the holiday spirit.
In fact, there are plenty of other things I'd rather have cuff me up during the holidays.
1. My vibrator.
My vibe and I have gone through plenty of ups and downs. There was the one time it ran out of batteries mid-session. Another occasion, my dog decided to chew it. Guess I shouldn't have left it lying around.
Sorry gents, but good luck coming between me and my toy this season.
2. My pets.
My dog has been around for way longer than you, sir. She was with me when I cried about a certain guy not texting me back, cuddled with me on nights when the heat wasn't working and woke me up every morning with slobbery kisses.
Find me a man who can do all that without getting a raging boner and we'll talk.
3. My work wife.
She's the first person I talk to about my office crush or how sh*tty the bathroom is. She also knows when I'm so over my boss or just can't handle my life.
She'd never tell HR.
4. Hugh Grant.
I've watched "Love Actually" so many times, I might as well be married to the man.
Come on — he's British, he's sexy and he only slept with a sex worker once! That's a good enough track record for me.
5. My coffee.
It's the most consistent presence in my life. It's there for me every morning and doesn't mind being an accessory. It cools me down in the summer and warms up my soul in the winter.
Basically, coffee is always the right answer.
6. Michael Buble Christmas albums.
It might not be the most consistent relationship. But, come the holidays, Buble's tunes will be all I hear.
He'll make me feel good and get me into the holiday spirit.
My giant puffer doesn't care what I'm wearing underneath it.
It's also the perfect excuse to avoid spending half an hour shivering my ass off, waiting for some dude to loan me his sweater.
8. My wine opener.
When coffee doesn't do it, I need to go for stronger sh*t.
Namely, a bottle opener for all the wine I've stashed away for rainy days.
It might leave my tongue looking a little purple, but at least I'll have a fun night!
9. My job.
It'll provide for me no matter what, right?
Hey, it keeps me fed, warm and happy, so it's the best date I can possibly have.
10. My own damn self.
I won't argue with myself about which Christmas movie to watch or complain about listening to "All I Want For Christmas is You" on repeat for the past hour.