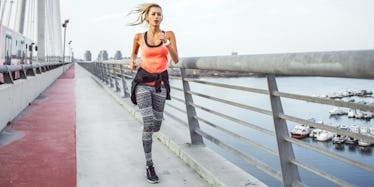 No Guy Will Ever Want To Tell A Random Woman To 'Smile' After Seeing This Video
Just a heads-up for guys mulling over pick-up lines: Telling a woman to smile will not spark a friendly conversation.
A parody video called "Smile," written and directed by Jessie Weinberg, portrays what women think when guys tell them to smile.
The Get Go, the first all-female Maude sketch team at the Upright Citizen's Brigade Theater, released the video on their YouTube channel.
In the video, a guy tries to spark a conversation by ordering a random woman to smile in public, but it doesn't turn out like he thought it would.
He says,
Smile. Smiling: I think it'd be a good look for you…I just think you would look pretty with a smile, all women do.
The woman reacts defensively at first, as she should.
She says,
You're telling me what to do with my face?
But then she spins into a sarcastic rage, smiling as big as she can before using a horn to call women from everywhere to come listen to this wise random man's life advice.
The woman goes on to say,
I feel like it's helping already, more people will like me and I'll do better in business...You're really on to something random man, telling us what to do with our lives...Get in line ladies, the random man with no job wants to evaluate our life circumstances and assign facial expressions.
The video's YouTube description reads, "Men of the world, women would like to thank you for your advice."
Telling a woman to smile is rarely a good conversation starter and hardly good advice at all. Ask this guy. Watch the "Smile" video above.
H/T: Huffington Post