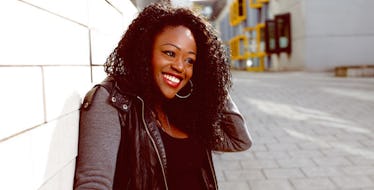 5 Simple Teeth Whitening Hacks Your Dentist Wants You To Remember
We've all been there. You're sifting through your best friend's Facebook album only to discover that your teeth look super yellow in every photo. Ugh, why did you have to smile so wide?!
Lesson: Daily teeth whitening is just as important as any dental procedure.
Thankfully, you don't have to rush to the dentist's office for a professional whitening to brighten your less than pearly whites. Dr. Marc Lowenberg, cosmetic dentist at Lowenberg, Lituchy & Kantor, assures us there are more convenient alternatives.
If you're looking for a quick fix, check out these five inexpensive hacks for brightening your cheesy grin at home.
5. Fruit peels
Keeping your fridge stocked with fruits and veggies can be an easy way to whiten teeth without much thought. Certain fruit peels can be great for removing surface stains. Lowenberg suggests buffing your teeth with the peel of an orange or chewing raw, crunchy vegetables such as carrots or celery.
Another food he suggests eating is kale, as its dense consistency will both clean your teeth and brighten your smile.
4. Oil pulling
If Gwyneth Paltrow swears by this simple, age-old remedy, we're all ears.
Swishing one or two teaspoons of vegetable-based coconut, sesame or olive oil in your mouth for 20 minutes removes harmful bacteria and gives your teeth a serious bleaching treatment.
Lowenberg explains that just as oil cleanses the skin, oil pulling also improves oral health. He advises,
Oil pulling is best done in the morning before eating or drinking anything. Don't forget to brush well after rinsing!
3. Baking soda and hydrogen peroxide
Lowenberg additionally suggests mixing a teaspoon of baking soda with hydrogen peroxide into a paste for a brighter smile.
He believes you should "use it up to once daily in place of your fluoride paste to polish away surface stains."
Not into mixing your own toothpaste? Snatch up a tube of Luster Now! Instant Whitening Toothpaste to add a quick shine to your dull teeth.
Luster Now Instant Whitening Toothpaste, $6, Jet
Lowenberg says,
If you don't have a few days to spare for Crest Whitestrips and you are looking to whiten teeth quickly at home, [this method] will make teeth appear brighter instantly.
2. LED whitening kits
Instagram celebs are cashing in by snapping pics with various at-home LED whitening kits. Although that may throw you off, these little kits actually have serious brightening potential.
Lowenberg says at-home LED kits are generally safe, as they emit light with a wavelength that falls within the "visible light spectrum" and are not strong enough to cause harm.
Biggest warning? Follow the instructions on the box.
1. Whitening strips
Crest 3D White Luxe Whitestrips are not just consumer tested but also Lowenberg-approved.
Crest 3D White Luxe Whitestrips, $44, Amazon 
Though the results vary from person to person depending on how receptive one's teeth are to the bleaching gel, they're the best of the at-home options.
Lowenberg explains,
The bleach within the strips remains in contact with the tooth enamel long enough to deliver noticeable results.
For $44, these whitening strips combined with daily use of a whitening toothpaste are an affordable option for maintaining a whiter smile.