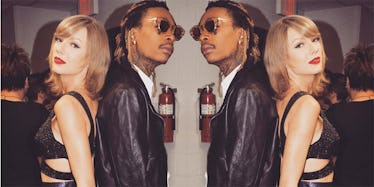 12 Ways Taylor Swift Can Help You Take Fierce Squad Goals Pics
You're doing a disservice to girl code if you don't know how to pose for group photos.
Really, there's an art to it.
The moment you say "wait, I want to Instagram," your friends are obligated to stop chewing whatever they're eating, turn around and grin like it's #squadgoals.
If you don't Instagram a photo of you and your squad before, during and the morning after a night out, did you even go out?
Plus, with the amount of photos you and your girls take all night, you have to ensure you look like the flyest version of yourself in each one.
Look no further than Queen Tay Tay to be the shining example of this. Not only is she friends with half of Hollywood, but she also feels the need to document her every waking moment (which, naturally, involves a lot of baking).
Do you expect anything less from the queen of #squadgoals herself?
Here's your handy-dandy guide, as told by Taylor Swift.
1. Master the skinny arm.
Look like you've definitely been going to the gym when you, in fact, haven't stepped foot inside Equinox since New Year's Day.
Pro tip: The skinny arm can be achieved by placing your arm on your hip at roughly a 90-degree angle. Don't jut your arm out too much, though, or it'll look forced.
2. Don't forget the "candid."
They weren't planning this. Really.
Pro tip: Don't be that girl picking her nose, sneezing or something equally horrendous in each shot. If you know photos will be taken, be on high alert.
3. Always laugh like someone just said the funniest thing you've ever heard.
No matter what, always look like you're having the time of your life.
Pro tip: To make your smiles more genuine, actually laugh. Smizing can only get you so far.
4. Pretend you all love each other.
Bet Lena wishes she read the group text to wear heels now.
Pro tip: Don't be that person who forgot to dress up, wear heels or don a red lip. You'll be mocked later.
5. Share your love of kale. Or lettuce. Or Bill Murray.
Use this as an opportunity to wear the sweatshirts you all drunkenly bought that one time together.
Pro tip: Avoid making this look like a sorority photo. Don't do creepy pageant queen smiles.
6. Yachts call for moody poses.
Tyra would be proud.
Pro tip: Practice your pissed off face. You never know when you'll need it.
7. Embody #fitspo.
If you don't Instagram when you finally climb that mountain, did you even climb that mountain to begin with?
Pro tip: Wipe that damn sweat off your upper lip. No one has to know it takes effort to be this badass.
8. Candid walking poses are so Beatles.
The trick is forgetting the camera is directly in front of you.
Pro tip: For the best candid-style photo, look like you're engrossed in conversation. We all know you don't actually want to talk to people.
9. Know how to take a great "wait, I wasn't ready" photo with your girls.
No one has to know you spent the last 15 minutes practicing your "look away" pose.
Pro tip: Keep your side profile game strong. Do those chin squats, girl!
Side note, are chin squats a thing?
10. Show off the Pinterest-worthy things you do.
Also, be sure to Snapchat you getting your Julia Child on in the kitchen.
Pro tip: If you failed, just lather whatever you just made with a sh*t-ton of frosting.
11. Be #vacationgoals.
What's the point of going on vacation if you don't Instagram every waking moment? Oh, and be sure to talk about how great it was to finally be a little "disconnected."
Pro tip: It's only goals if you post this in the dead of winter when everyone is snowed in and you're on a beach in Mexico. Any other time, you're just lame.
12. Include virtually every squad under the sun in your #squadgoals.
Include your grandma. Your friend's aunt's best friend's daughter's cousin. Your sister's star-crossed lover's dog's nephew. Just include everyone.
The more the merrier, right?
Pro tip: It's not #squadgoals if there are less than exactly 37 people in your photo.