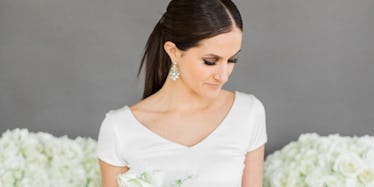 This Designer Makes Wearing A T-Shirt On Your Wedding Day Look Beautiful
Samantha James Photography
I'm one of those annoying people who thinks the marriage part of getting married seems like way more fun than the whole wedding part of the process.
If I didn't have such a big family, I'd easily elope. Putting on an entire, elaborate, expensive wedding just seems like so much WORK. And, to be quite frank, I'm too lazy for it.
You have to book a venue, invite guests, make seating charts, prepare a menu, hire caterers... and the DRESS. Don't even get me started on the dress.
I have to try on one million different poofy, uncomfortable things until I find the ~perfect~ one?! No, thank you.
But the people over at Hey Gorgeous Events might have found a solution to the wedding dress portion of my problem once and for all.
In an attempt to provide women with modern ideas for their weddings, they managed to break all sorts of traditions. Including the one that forces me to wear a dumb, poofy, outdated dress.
They've taken the stress out of choosing a dress by pairing a simple T-shirt with a chic, elegant skirt for your big day.
Don't believe me? Just look at this chick!
Yep, there's the beaming bride rocking a T-shirt and a skirt, both designed by Carol Hannah.
(OK, I'm pretty sure she's a model and not a bride, but whatever, you get the point.)
And it's really just a plain cotton T-shirt. Look at how fab this girl looks!
That's literally just a boring plain white tee like the one you wear to bed, and she still looks FLY and ready to rock the runway... um... aisle.
Like, YES, she's a model, but I honestly think anyone could wear this outfit and look pretty wedding-day ready.
And she looks so comfy! Dreams really do come true!
They even replaced the lame corals and lavenders that accent most weddings with this gray and black look.
Look at how chic that looks! And not a pastel in sight! GOD IS REAL.
Even the wedding invitations they mocked up for the shoot are modern AF.
Like, OMG, am I looking at an invite to a Chanel fashion show or a wedding?! I'm SOLD.
Even though weddings still stress me out like none other, at least now I know there's an aesthetic out there that doesn't make me want to throw up in tin foil and eat it.
Now I should probably look into finding a groom.