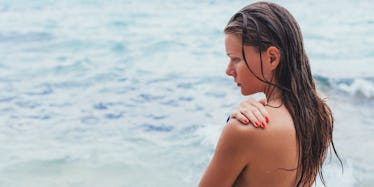 The C+ Cup Struggle Is Real: 13 Reasons Why Having Big Boobs Sucks In The Fall
I never really knew there was a distinct set of problems for girls with big boobs in the fall, I just thought they were a general problem.
Apparently, however, with each season comes different complaints, as I was told by many of my big-busted friends.
I thought the struggle ended with bikini season, as I tried and failed yet again to get these babies under control.
But nope! Colder weather approaching means one thing, and one thing only: layers. And what do more layers mean for us C-cup+ individuals? Suffocation.
The struggle is all too real, and today I'm going to break it down for you:
1. Cable knit sweaters make you look obese and/or pregnant
Sweaters are a go-to wardrobe essential in the fall, which is quite unfortunate for you because they are far from flattering. What else are you supposed to even wear in the fall with this option barely on the table?
2. WTF is an A-line dress?
The only thing an A-line dress is going to do for you is put you on the fast track to looking top heavy. I'm honestly not even sure which is less flattering, this or a cable knit sweater.
3. Pre-packaged Halloween costumes never fit
It doesn't matter what you are trying to be, it will always come out as the "slutty" version of its original intention. Yeah, sure sometimes this can look good, but it's pretty stressful trying to put together your own costume at the last minute.
4. Cross-body bags are your worst enemy
What is the worst look a big-busted girl could try to pull off during the fall? A cable knit sweater plus a cross body bag. It just digs in-between your boobs and leaves you looking lopsided.
5. JK, infinity scarves actually are your worst enemy
One word: suffocation. All you want to do is keep up with the trend, but whenever you try, you end up cutting off your own air supply. I guess we will just have to freeze...
6. Your boobs are the only statement necklace you will be rocking this season
You can't wear statement necklaces because your boobs just serve as a shelf for them. This is where the saying "less is more" most definitely comes into play.
You don't want to add anymore chunk to your upper half, so steering clear of this is a must.
7. While everyone else participates in half-marathons, you watch from your Instagram feed
I'd rather not spend the entire season of fall intentionally giving myself black eyes, so you enjoy your marathons, while I endure Netflix marathons. I won't be jealous in the slightest.
8. You have absolutely no idea what size you are in an overcoat
Ordering a winter coat online is probably one of the more difficult tasks you will face when it comes to your wardrobe. Are you a small because that's typically your size or do you need to size up to hold yourself comfortably in?
Life is so hard...
9. You haven't been able to zip your leather jacket since middle school
There is absolutely no way your leather jacket will ever zip in a flattering manner. You don't even try anymore because it'd look more like straitjacket than anything out of a fashion magazine.
10. You actually show up to Thanksgiving dinner looking like a pilgrim
Family holidays are always a struggle because you know you must dress conservatively, which just makes you look like the worst version of yourself. Just keep drinking, you'll feel better eventually.
11. More often than not, it's too cold to accentuate your greatest assets
The lower the temperature drops, the more covering up you will need to do. While all the other girls can flaunt their derrieres in leggings, you know that your best assets will remain covered up for the next five months.
12. Sweating in sweaters is the absolute worst
You ever wonder what it feels like to have a waterfall cascading down your rib cage? Yeah. No. I hope you don't because it's f*cking uncomfortable and actually pretty embarrassing.
13. You go back to looking like a burlap sack at work
No more cute sundresses, you are back to rocking unflattering button-up blouses. This is perhaps the worst part of the change of seasons.
So take your depressed ass over to Banana Republic and weep in the dressing room, sometimes that's all you really need.
Photo Courtesy: Tumblr