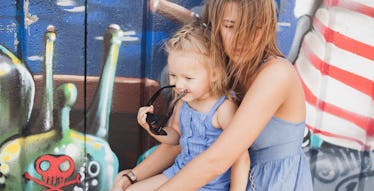 Stop Trying To Make Birkenstocks Happen, They're Never Going To Happen... Or Are They?
Stocksy
As I write this, I am opening a Snapchat from a friend who is currently rocking this atrocious footwear (sorry Jess) while sitting across from a coworker who also decided to sport this look today (sorry Katie).
We thought we saw the end of this Jesus-wanderer inspired trend years ago, but apparently these things are trying to make a comeback.
These cork-soled, vegan-friendly abominations are currently selling out across UK stores.
Asos, a popular online retailer, has noticed a huge influx of Birkenstock orders as of late along with Amazon.co.uk, which has reported a 95 percent rise in sales of any and all variety of the sandal.
Hayley Beech, a worldwide buyer for Asos, told The Guardian that their most popular style is the Arizona, a two-strap sandal that comes in black and white. My coworker Katie is wearing this style in white right now...
Even high-end designers are hopping on the Birkenstock bandwagon, bringing their own tastes to the once-deemed-hideous-shoe (it's still hideous, FYI).
Givenchy created a metallic style that will only cost you $850 and a floral style for even less at $795. Let's keep in mind that a regular Birkenstock will only set you back $68...
Unfortunately for me and the rest of the people who can't stand this fad, there are over 800 varieties available. Eight-hundred. W.T.F.? You can literally wear a different type every day for years...
These awful items apparently revive themselves like no other trend before them as they come in and out repeatedly in 10 year cycles. Kate Moss rocked a white pair of Arizona's for the Face magazine in 1990.
Fast forward 10 years later to the early 2000s where Jude Law and Gwyneth Paltrow were seen rocking these shoes too. Now, roughly 10 years later and despite my best efforts, these shoes are here and don't appear to be going anywhere.
What is the appeal of this footwear? Aren't there way better styles out there that will probably, actually definitely, make your outfit look better?
The only people who should've ever worn these shoes are Moses trekking across the desert and Jesus.
Photo Courtesy: We Heart It