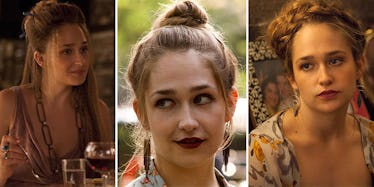 Ditch Your Brush For 'Nest Hair' Because The NY Times Thinks That's Cool Now
Apatow Productions
I have this hair. It's wild at worst, wavy at best and almost always looks better when it's dirty.
My hair has become some kind of bizarre metaphor for the weirdest parts of my personality. By encouraging its wildebeest nature, instead of smoothing it down, I feel like I'm giving myself freedom to run wild.
On second thought, maybe that's just a writer-ego thing. But I'm not the only creative to feel like my hair is a small animal splayed wildly across my scalp, in a desperate attempt at domination.
According to a new piece in the New York Times' T Magazine, ratty, textured hair isn't just a life choice.
It's a style statement, courtesy of stars like Jemima Kirke of "Girls," Leandra Medine of The Man Repeller and perma-it-girl Alexa Chung.
Not so into brushing your hair? That's fine. Just call it a "nest," rather than a style. My mother would often refer to it as a "rat's nest" or "bird's nest," but she's just not fashionable enough for the Times.
Now, how do you achieve the dreamy, artsy style? Well, it's difficult.
First, throw out your brush, stop washing your hair and live like you're Icelandic wild woman Bjork.
Have you got all that down? Next, the Times recommends channeling "women who wear their hair rather than letting it wear them" and who "sweep their hair up and away and they themselves are swept up in some fabulous pastime."
So just to be clear: Not only do you have to stop grooming your hair, but you should also get paint or possibly art gallery-grade cocaine in it.
Your locks should look wrangled and never actively pulled back. They should definitely put up a fight, while you only manage to stab your strands with an errant bobby pin here and there.
As laughable as the Times' take on hair is, it's also strangely on par with what beauty brands think we want.
I'm talking about products like IGK's Down & Out Dirty Spray, designed to make clean locks look well-worn; R+Co's Cactus Texturizing Shampoo, made with clay that gives wearers a gritty finish; and Honest Beauty's Honestly Effortless Sea Salt Spray.
In 2016, sleek, clean locks just won't cut it. Hair that only looks unwashed is the most stylish accessory.
On the upside, though, you don't have to spend any money to stop grooming yourself. Finally, there's a trend designed just for broke Millennials.
Too soon?