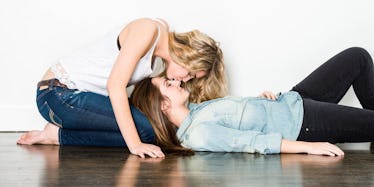 Sorry, Not Sorry: This Amazing Ad Wants Women To Stop Apologizing For Everything (Video)
Stocksy
"Why are women always apologizing?" begins Pantene's latest, and epic, ad spot.
It would appear that the hair product company is pushing for more than just shiny locks as of late. It's also gunning for equality, and its latest campaign couldn't be more on point.
The ad details a series of females in everyday situations, all of whom sneak "sorry" into their casual interactions. The spot then replays the montage, with each woman abstaining from apologies.
Kevin Crociata, marketing director of Procter & Gamble's North American hair care business, told AdWeek:
We used market research to look at what gender norms were holding women back and tried to tap into the most relevant and insightful areas. This problem of saying sorry, it wasn't just something women in the US were facing, but globally. After the success of the first campaign, Shine Strong is something we're committed to as a brand.
Not to discount Pantene's efforts for equal gender footing, but being overly apologetic is not exclusively a female trait. I'd argue Midwesterners are guilty of the same. Canadians are too, for that matter (they're just so nice all the time, it must be due to their knockout national healthcare plan).
Regardless, any step toward female empowerment is a step in the right direction. Good looking out, Pantene.
via AdWeek