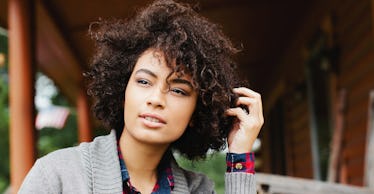 Budget Babe: Here's How To Shop Fall's Best Trends Without Going Broke
As soon as the weather app on your phone drops below 70 degrees, rest assured ad campaigns will start popping up all over your web browser.
With chic suede skirts and over-the-knee boots, these delightfully snuggled-up models remind you the best season is on its way. And of course, because nothing is ever as simple as just enjoying the leaves change, a new season of shopping has begun, too.
Brands prey on our desire to look purposefully put together in a leather jacket. Whether we're on the way to work or a lazy autumn afternoon in the park, we must look on trend. We can't help but project our face onto each of the models, wondering if purchasing another pair of fuzzy slippers or flannel pajama pants might actually improve our lives.
No matter how wrapped up in our fantasies we become, our wallets will always snap us back to reality. While we can dream of an endless wardrobe, that many dollars don't come easily.
Here's the trick to seasonal success: Purchase trends that'll be wearable for a few years to come, and make sure they fall under $100. The key is to choose versatility, picking pieces that can be mixed and matched with the items already in your closet. For example, layering sweaters and cozy dresses with low heels will build a wardrobe ideal for any occasion.
The sleek bootie
Behind every hard-working woman is a shoe that can keep up with her all day long. For fall, choose a leather or suede bootie with enough of a heel to give you a confidence boost without killing your feet.
This season's biggest trends are suede, Western and luxe colors that feel more expensive than they actually are. Pair your booties with work or going out ensembles, and mix them up with a pair of black jeans on weekends.
The lazy sweater
If the most important part of cold weather season is bundling up, then these sweaters are your new best friends. With soft fabrics, drapey silhouettes and on-trend colors, these lazy sweaters are easy to throw on over dresses or wear by themselves while watching movies in bed.
We love them over sleek, fitted skirts. The contrast in silhouette is always flattering, not to mention comfy.
The smart jacket
The tailored jacket often gets relegated to the cold, unfriendly job interview, but it deserves so much more than that. Cut in utterly modern shapes, these jackets are a play on the ever-stylish kimono and suit all silhouettes.
Even if you don't go anywhere near a conference room in them, these surprisingly inexpensive pieces will scream sophistication.
The artful bag
Bags are a controversial subject because most of us just end up dumping all our belongings into a single oversized (probably free) tote bag anyway. This fall, challenge yourself by switching to a smaller, more stylish equivalent.
Regardless of your leanings toward 1970s hippie princess or 1960s go-go dancer, there's a budget-friendly purse pick to suit your needs. Leave the extra lipsticks behind, and think micro.
The go-anywhere dress
Chilly weather season makes it easy to spend all day hopping from shops to get-togethers with friends. To facilitate an easy day out, look for a dress that suits your body type and comes with minimal fuss.
Working in an autumnal palette makes it easy to purchase a dress you'll keep for years.