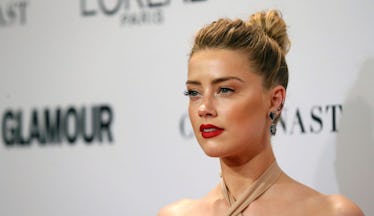 Glamour's Women Of The Year Awards Honors Stanford Sexual Assault Survivor
REUTERS/Mario Anzuoni
I might not know her real name, and I might not know her real identity, but as a female sexual assault survivor, I will confidently say Emily Doe has had a vital impact on my life.
You'll remember Emily Doe as the anonymous sexual assault victim at Stanford University, who, in January 2015, was sexually assaulted by Standford freshman Brock Turner while she was unconscious.
She taught me that while speaking up about your sexual assault is nothing short of terrifying, it can also be a vehicle for greater change in the world.
And that's why, last night at Glamour's Women Of The Year Awards, actresses Lena Dunham, Gabourey Sidibe, Frieda Pinto and Amber Heard took the stage to honor her.
Back during the case's trial, Doe's haunting "victim's impact statement," which detailed the impact of her trauma, was read aloud in the courtroom.
After Turner's sentencing, Doe's words went viral online — shared over 11 million times in the span of a few days.
Doe's raw honesty resonated with women everywhere, for she had the courage to verbalize what so many of us feel silently.
In fact, her statement was so powerful, it caused California to be more proactive in persecuting sexual assailants whose victims were unconscious or under the influence, according to Glamour.
That's why Glamour enlisted the help of some of Hollywood's elite to read Doe's powerful statement, in addition to an essay she wrote for the magazine.
After reciting Doe's words, Amber Heard, whose own trauma became public this year, voiced a personal message of her own to Emily.
"Emily, wherever you are, we know you are listening. Thank you for your words, thank you for your courage. We carry it with us every day. In honor of your fearlessness, you are a 2016 Glamour Woman of the Year," Heard said.
I can only imagine how healing it must have been to be in a room made up of such empowered women after such a surreal week.
Michelle Dauber, a law professor at Stanford University, received the award for Doe and read a new message from Doe herself, which included her feelings on the importance of remaining strong in a system that attempts to scare women into utter silence.
She recited,
Every story is our power. Together, we are louder than any system or person who threatens to silence us. Together we are countless and unstoppable. Now, we are indignantly rising. Be excited. Keep going. I'll be fighting alongside you.
Dauber left the audience with a sensitive, yet empowering note about the 2016 election — an election that left many sexual assault survivors feeling triggered and afraid.
"I'm devastated that we have elected a president who bragged about committing sexual assault. However, now it's time to get to work," Dauber said.
Actress Tracee Ellis Ross also spoke to the collective heartache of the 2016 election by instructing the audience to "breath in the safety and electricity of the room" and to release a "primal sound" when it comes to using our voices post-election.
I think Ross is on to something. If there is one thing Emily Doe has taught my generation of women, it's that we must continue to use our voices.
No matter how hard people try to stifle our voices, our voices can (and will) inspire change.