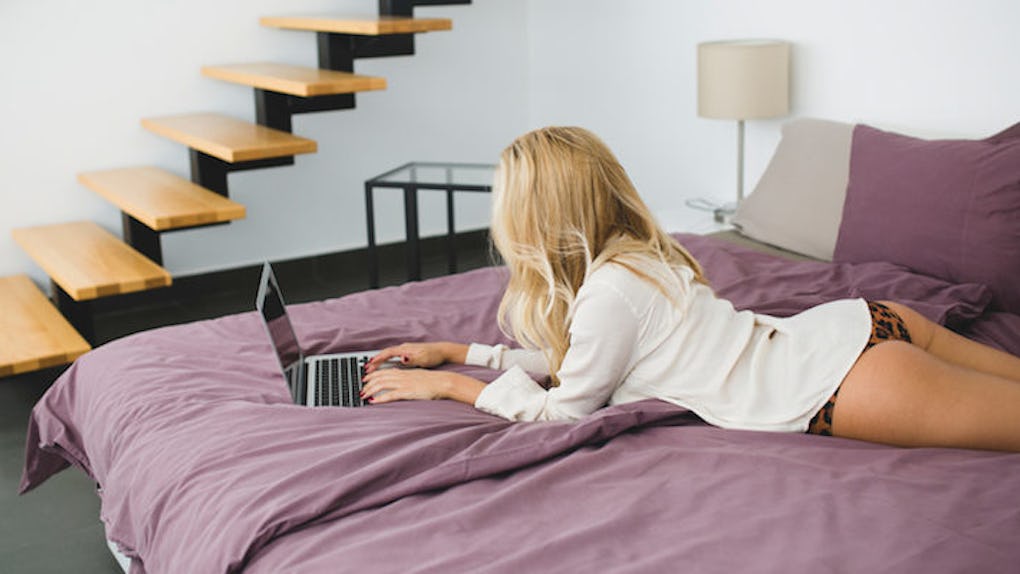 Jovana Rikalo
The Timeline Of A Sext: 5 Steps To Sending The Perfect Nude Photo
Disclaimer: Mom, if you are reading this, I have obviously never sexted before.
Sexting has become increasingly popular over the past five years.
With new celeb scandals revealing leaked photos every week, sexting has become sort of normalized.
Terrifying? Maybe to some. Surprising? Not at all.
Whether you're a well-seasoned sexter, a sexting noobie or considering sexting to spice up your LDR, here are five steps to sending the perfect nude.
1. Know your angles.
Every woman has a different body type. Whether you're curvy, slim, athletic or flat- chested, you have the power to be sexy.
It's all about knowing what assets make you feel confident, and how to really show them off tastefully.
Now, you're probably wondering how you can sext tastefully.
This varies person-to-person and can involve a number of things, including what you're comfortable with and where you're at with the person you're sexting.
The key thing to remember is it's best to show off one asset at a time. You want to keep them guessing and avoid looking like a full-blown porn star.
2. Lighting is everything.
Fluorescent lights have never made anyone look good, so sexting from your washroom might not be the best option.
Unless you're comfortable exposing every nook, cranny and flaw, I'd suggest avoiding fluorescents.
Now, dim lighting is sexy and sensual. However, it can cast a lot of shadow.
Unless you're built absolutely perfect and get shadows in all the right places, I'd avoid this dim-yet sexy-lighting.
Your safest bet is to use natural lighting or regular bedroom lighting.
Keep it simple.
3. Cover it up, just a bit.
No one likes a try-hard. You're confident and just happen to look and feel hot, so you took a picture.
How chill of you.
This might not be the case, but it certainly should be. How do you go about this chill, yet inviting sext? A nip-slip. Simple, effective, innocent and you can probably get this easy shot in about 10 seconds flat.
4. Don't expose yourself.
What makes a sext perfect? Not having to worry about whether or not your entire future will be ruined if it leaks.
I don't advise sending a nude to someone you don't trust with your entire being.
Even then, you don't know what the future holds. That same someone you once loved could potentially end up hating you and want to ruin your life.
Keep your face, tattoos and anything identifying out of your sexy photos.
5. Avoid sexting via Snapchat.
Nowadays, you can send a scandalous picture in a few seconds or less.
You get to be sexy for a hot second or two, but not long enough to have your photo screenshot by your recipient.
But what happens if, in the rush of your sexcapades, you accidentally publish a sext to your story?
It sounds silly, but I guarantee you won't be rolling your eyes when your 80 Snapchat friends get up close and personal with your lady bits.
Sexting can be weird. To some, it may seem completely inappropriate. The truth of the matter is, this taboo subject isn't exactly taboo anymore.
If you like sexting, all power to you! I envy your confidence and free-spirit. I simply (and annoyingly) want to reinforce being smart about it.
Don't let your intimate photos fall into the hands of the wrong person. If they do, make sure the photo is done so that it's impossible for others to identify who you are.
You can't take a photo back once it's sent, but you can certainly control what you're sending.