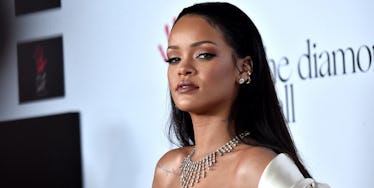 10 Times Rihanna's Songs Were The Absolute Best Dating Advice
Getty Images
It's no secret I'm obsessed with Rihanna. Between her pierced nipples and natural beauty, I'm a super-fan.
"Pon De Replay" was a sunny record, one of my favorites during junior year of high school. Still, she wasn't speaking to all the f*cked up things happening in my dating life. When Rihanna went full-on badass with "Rated R" in 2009, she finally started releasing records I could relate to.
Nowadays, I play Rihanna songs religiously. Whether she's singing about love or giving notes to f*ckgirls, Rihanna's songs are perfect for all dating woes.
In case you had doubts, I broke it down for you.
1. When you can't seem to land a single Bumble date, listen to "Raining Men."
If Rihanna's not worried about the abundance of men, you shouldn't be either. Whether you swipe right for your future bae or bump into him at a work event, it'll work out eventually.
2. When he ghosts you, then tries again, turn on "Take A Bow."
He pretended to like you for months then pulled a disappearing act grander than "Now You See Me." If there were Oscars for f*ckboys, he'd win an award for his masterful performance.
So, when he tries to tip-toe back into your inbox, shoot him a couple of clapping emoji and block him.
3. When he wants a relationship but you're a maneater, play "Needed Me."
At times, being single means being a savage. Playing men like fiddles may sound horrible to some, but Rihanna's low-key record is a feminist anthem.
Turn it up when your womanly wiles mean the end of all your love options.
4. When you've begged him not to break up with you, tune into "Stay."
When he's fed up with your heartless ways, you may need to crack open your softer side to win him back.
This song will help you warm up to the idea of being vulnerable.
5. When you run back to your ex again, start "Same Ol' Mistakes."
Your friends never fail to tell you how much your ex isn't right for you. Still, you know you're in love.
No matter the amount of dramatic breakups or kinky makeups, the two of you are stuck with each other – for better, but mostly worse.
6. When you're in a long distance relationship that's rocky, blare "Work."
Long distance relationships are harder than a Rihanna and Jeezy record. Plan a weekend getaway with bae to rediscover your #relationshipgoals status.
Drake's right, you just need a face-to-face to figure out the direction the relationship is going.
 7. When you drunk dial him, recover with "Higher."
The block feature has never stopped a drunk woman on a mission. When you find yourself calling him after a few Jameson shots, make like Rihanna and apologize for whatever you did wrong (including the current call).
Pouring salt on an old wound is never fun, but whiskey makes it better.
8. When he stops paying attention to you, make "Only Girl (In The World)" your anthem.
His short attention span isn't his fault –– he's just a man.
Instead of begging your man to take you to dinner or the museum exhibit you've been dying to see, blast this blatant track so he gets the message loud and clear.
9. When his sex game isn't up to par, tell him to "Watch n' Learn."
We can't all be oral sex pros without a little work (work work work work). If he gets a failing grade in cunnilingus, play the teacher role. Make him your student and guide him to your G-spot with a little hands-on assistance.
Let him know he needs an A+ to pass the friend zone.
10. When the breakup is final and you head back to the single's scene, blare "Pour It Up."
Don't waste too much time licking your wounds. Take a day (or five) to wallow in a pint of Talenti and sad love songs. Afterward, wrangle your girls and paint the town RiRi Woo red.
Single or not, you'll always be a bad b*tch like Rihanna.