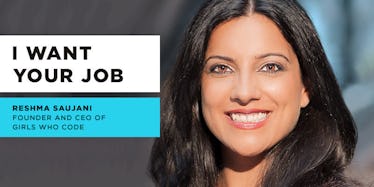 I Want Your Job: Reshma Saujani, Founder And CEO Of Girls Who Code
Girls Who Code
Life hasn't dealt Reshma Saujani any easy hands, and she's quick to admit it.
The same woman who nonchalantly shares her tete-a-tetes with Melinda Gates and Hillary Clinton also remembers being broke, miserable and a failure.
Saujani is the founder and CEO of Girls Who Code. She's received quite a bit of media attention in the past few years for her dedication to getting young women involved in tech. On the phone, she's self-assured and speaks in sound bites, the trademark of someone who was once a politician. But, those one-liners come off as endearingly honest.
Right away, she takes a deep breath and drops a whopper of a line.
"I feel like my career's really about failure," she says. "And chasing opportunities."
Saujani, the child of Ugandan refugees who were originally from India, grew up prioritizing social justice. While other kids dreamed of being firefighters and ballerinas, she wanted to be a lawyer.
It took Saujani three tries to be accepted to Yale Law School, but even that wasn't a light at the end of the tunnel. Scrabbling and scraping, she graduated from Yale with more than $300,000 in student loans. The daunting number sent her hunting for a high-paying, stable position in the world's man-eating business capitol, New York City.
Saujani's hedge fund job at a Wall Street financial services firm might have been paying the bills, but it was simultaneously scraping away at her conscience.
"I was miserable. I was waking up every day in the fetal position. I hated my job," she says with the clarity of someone who dwelled on the subject for several long years. "I just didn't feel a sense of purpose when I felt like I was somebody who was put on this earth for a purpose and to do something good and meaningful."
The niggling idea tickled at Saujani's brain, making it impossible for her to settle. She was 34 and needed a radical change.
So, she did what most ambitious women wouldn't, and bullheadedly announced a 2010 political campaign for the US House of Representatives. She planned to run in New York's 14th congressional district, held by Carolyn B. Maloney, an incumbent of 18 years.
Saujani didn't just lose. She self-admittedly "miserably" lost.
"I hadn't worked that whole year because I was running my campaign [with my life savings]," she says. "And when I lost I was broke, I was humiliated. When you run a political campaign, everybody knows you lose."
Ashamed and out of work, Saujani poked around for her next opportunity. It came in the form of a position as NYC Deputy Public Advocate, finally working for the city she'd tried so hard to win.
There, Saujani began researching the gender divide, a problem she'd investigated for her failed congressional campaign. After countless hours of research, the idea arrived in 2012: a summer program for girls to learn coding, which would later grow into a fully-fledged nonprofit.
"I didn't know what I was building at that point," Saujani remembers. "I went to GoDaddy.com, saw that Girls Who Code was available, bought it on my credit card."
Using her lists of contacts, a friend's borrowed conference room and her own money, Saujani began to build. With the organization, she rebuilt her own confidence. That first year, 20 girls learned. Soon, the idea would explode into the thousands.
According to Girls Who Code's website, the organization has served 3,860 girls in 29 states to date. https://instagram.com/p/BBN-vqwTM5t/embed/
Even so, Saujani's not satisfied.
"I don't feel like it's enough," she tells me without hesitation. "I feel like I want to get to millions, and then tens of millions and then hundreds of millions. "
By 2020, the organization aims to reach an astonishing 1 million students.
Still, Saujani's job doesn't exist in a vacuum. Everywhere she looks in pop culture, she sees another girl being told she can't, or that she's weird.
"We need Hollywood, we need Disney," she says. "We need, basically, characters from zero to 25. Girl coders, hackers, programmers. We need Shonda Rhimes to create her next show about a female coder."
When girls get the chance to learn, they're thirsty for more. All it takes is a role model. Saujani mentions mega-model Karlie Kloss, who Skyped into one of her classrooms to chat with the girls about what they were learning. She even gave out her phone number and email address.
Daily, Saujani watches teen girls create programs designed to improve the world and the gender gap. She calls this generation "fearless."
"I've seen what's possible with girls when you give them an opportunity and you expose them to different things," Saujani adds.
And it's not just girls she wants to encourage. As the new mother of her first son, she feels men need to support their daughters, sisters and friends.
"We are losing out, as a society, from half of our workforce innovating, ideating and creating the problems and the solutions of tomorrow," Saujani says.
Still, Saujani isn't slowing down. Though she may have found her professional niche, she's using her time outside of work to campaign for paid parental leave and fundraise for Hillary Clinton. In 2013, she published a book titled "Women Who Don't Wait in Line." Her goals are ambitious, but everything Saujani's achieved so far has come from her smarts and dogged ambition.
For entrepreneurs just starting out, Saujani has choice words of wisdom.
"It always works out. You can't sometimes see what twists and turns your life is going to take," she says. "You will be more than fine. The money will come, everything will come."
And, if you haven't started coding yet, now's the time.
"I think every woman should do it," she says. "Regardless [of] if you're 70 or if you're 17."