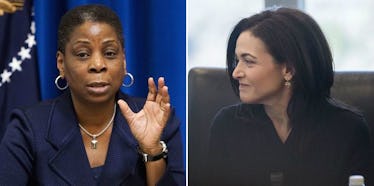 5 Powerful Women In Technology Who Are Shattering Glass Ceilings Every Day
REX/Shutterstock
Millennial women face a different world than our mothers and grandmothers did.
Many old-fashioned attitudes about gender in the workplace are fading away, replaced by the realization that accommodating women is reasonable and necessary for a healthy workforce.
While women have not yet broached equal representation in the worlds of politics, business and technology, we are increasingly shattering glass ceilings daily.
The tech industry today remains a boy's club, with only 26 percent of jobs filled by women at any given point. The average woman faces a 3:1 male-to-female gender ratio in the industry, and it only gets worse higher up the management ladder.
Luckily, many women have confronted the gender divide head on. Here are five of the most powerful women in technology today.
1. Ursula Burns
A daughter of Panamanian immigrants and raised by a single mother in New York housing projects, Ursula Burns has humble beginnings.
Nevertheless, she was the first African-American woman to become CEO of a Fortune 500 company, overcoming both the gender and race divide that overwhelms the tech industry.
Burns started at Xerox as an intern in 1980, permanently joined the force a year later and caught the attention of senior executive Wayland Hicks, who offered her a job as his executive assistant.
She was steadily promoted throughout the '90s and 2000s and became the president of Xerox in 2007. In 2009, she was named CEO.
Burns' career shows the power of loyalty, the value of promotion from within a company and the evidence of a hard worker who made her skill known time and time again throughout her career at Xerox.
2. Ginni Rometty
Another tale of rising through the ranks to become CEO, Ginny Rometty joined IBM in 1981.
She remained with the company for decades, spearheading major projects such as the purchase of PricewaterhouseCoopers Consulting, and was named the company's next president and CEO in 2011.
In 2015, Fortune magazine named her number three on their list of most powerful women.
In an October 2016 women in tech conference, Rometty addressed a crowd, advising women they should be risk-takers and refuse to allow others to define them.
She said,
I learned that growth and comfort never coexist. It's the same for people, countries and companies. Ask yourself when you learn the most. I guarantee it's when you felt at risk.
3. Jen Fitzpatrick
A Stanford graduate with a go-getter attitude, Fitzpatrick began working for Google in 1999 after calling the organization requesting an internship.
The computer scientist has been with the organization ever since. Today, at the age of 39, she is the Vice President of the Google Maps line, with big dreams about how to expand the helpfulness and usability of one of Google's most popular products.
Fitzpatrick said Google has taken the time to build a pro-woman environment that welcomes employees like her.
She said interviewing candidates always face at least one female executive. She explained,
As important as it was to bring in strong women, we also wanted to recruit male programmers who would be great colleagues to women.
4. Meg Whitman
The CEO of Hewlett-Packard, Whitman is a self-made billionaire according to Forbes, and was named the ninth most powerful woman in tech in 2016.
A long-time business woman with an illustrious career developing TV technology, Whitman led or joined the executive teams of The Walt Disney Company, Procter and Gamble, Dreamworks and Hasbro before being named CEO of HP in 2011.
She has become a powerhouse in the tech industry, earning a new name for herself as an opponent of "demagoguery" when she began campaigning against Donald Trump and supporting Democratic candidate Hillary Clinton.
5. Sheryl Sandberg
One of the most vocal supporters of women in tech today is Sheryl Sandberg, CEO of Facebook.
She was the first woman to serve on the social media site's board of directors after leaving a successful career at Google from 2001 to 2007.
In 2013, Sandberg co-wrote and published a book, "Lean In: Women, Work and the Will to Lead," addressing women's struggles in the workplace.
The book advocated for the breaking down of gender roles, claiming that an equal world would be if "women ran half our countries and companies, and men ran half our homes."
Women in the tech industry today are blazing trails for women of the future, whether they intentionally pick up the mantle of feminism or simply lead a successful career, not letting their gender hold them back.
Citations: Meg Whitman And Hillary Clinton (NY Times), TV Technology Explained (Hi Sense)