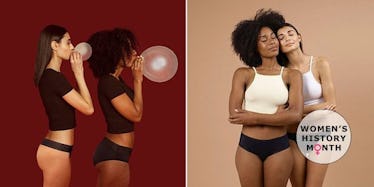 This Period Panty Company Is Facing Backlash For The Most Ironic Reason
Thinx, the period panty company, has pissed off a few female employees for a really surprising reason: emotional abuse of women in the workplace.
The brand has lost 10 employees in 2017 alone, according to Racked, based on accusations of questionable pay, inadequate maternity leave and verbal abuse directly from the self-described "She-E-O", Miki Agrawal.
You read right.
A brand that rose to prominence because of its mission to de-stigmatize menstrual cycles and promote healthier period products (i.e. period-proof underwear, active wear and organic tampons) isn't actually as feminist as it seems.
Employees shared their experiences with accepting below-market salaries, and being shut down when they asked for more pay after being assigned additional responsibilities.
Workers were paid impossibly low salaries.
"It honestly felt like a middle school environment: pitting people against each other, calling us petty children and [saying that we were] immature and that we're all these millennials that don't know anything — meanwhile we're being paid easily $30,000 under industry standard salaries."
Maternity leave was also scarce.
And before you make the  say, "maternity leave isn't even a legal requirement," remember we're discussing a pro-woman establishment here. While not a benefit mandated by our government, people have long argued that paid maternity leave is an important issue that the United States could do a better job of regulating.
Despite being a company that supports women's health and our overall rights, birthing parents are only allowed two weeks of paid time off and two weeks unpaid. Non-birthing parents are given one week of paid time off and one week unpaid.
Glassdoor reviews and Racked sources both point toward the CEO and co-founder, Miki Agrawal, as a huge part of the issue.
One reviewer dubbed her "a time bomb and a liability" while another labeled her a "tyrannical and abusive CEO".
Sources confirmed to Racked that Agrawal instructed at least three employees to write positive reviews online.
She is also accused of commenting on staffers' bodies, calling a woman a "bitch" during a work meeting and saying she plans to hire "immigrants who are grateful."
Other not-so-feminist factors about the Thinx environment include at least one employee admitting to not being able to afford birth control, and two other female employees sharing that they only found out about being fired after losing access to their email accounts.
Agrawal is allegedly stepping down from her position, though she confirmed to The Cut that she is currently the "She-E-O."
Still, the company's board of directors is actively looking for her replacement, and have not publicly confirmed any connection between the impending change and Agrawal's reputation.
Where are women safe at work?
If women are not even safe from misogyny in supposedly feminist work environments, then where are they safe? This Thinx scandal just proves the point that it is very possible to talk (and brand) that feminist talk.
If women aren't even safe from misogyny in supposedly feminist environments, then where are they safe?
Let's all hope that Thinx starts walking the walk, and takes care of the women in their office as well as they want us to care for our bleeding vaginas.