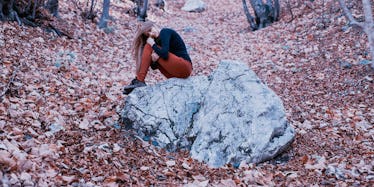 These Are The Perfect Outfits For Any Kind Of Thanksgiving Dinner
Stocksy
Thanksgiving is one of our favorite holidays of the whole year.
It's the perfect chance to reconnect with loved ones and sit down to enjoy a meal of epic proportions.
As always for a festive occasion, you want to look your best.
Thanksgiving is as much about the clothes you wear as it is the food you eat. And what you decide to wear depends on the type of gathering you're headed to.
It might be perfectly acceptable to wear joggers with your family, but it's much more suitable to go with something more formal with your coworkers; and while you might opt for jeans while celebrating with friends, you're more inclined to go with an outfit that's a touch more elegant for your boyfriend's house.
Whatever the type of celebration, we have an outfit for each of them.
Friendsgiving
When you're living in a new city and your parents are back in you hometown, it doesn't always make sense to hop on a plane for a few short days. Instead, you celebrate with your friends and a big old bottle of Jack Daniels.
This kind of Thanksgiving dinner might be super casual, but you'll still want to look as great as your girlfriends. Go for a fabulous hat and a frisky stack of bangles to make you stand out in all the group pictures.
Pre-Thanksgiving office party
For a party at work, you'll want to dress up your look.
A fitted pencil skirt, statement necklace and a sharp stiletto are the right touches to give you an elegant flare.
Plus, your coworkers won't be able to judge you for helping yourself to a second slice of pumpkin pie when they're too busy eyeing your bold accessories.
Thanksgiving at your parents
When you're home with the fam you can get away with wearing anything you feel like. This means throwing on the high tops and grabbing your backpack.
Joggers are ideal for Thanksgiving so your food baby has ample room to grow.
Thanksgiving at your boyfriend's house
Going to Thanksgiving with your boyfriend is a big deal. You want to look sophisticated without overdoing it. No one likes a gal who tries too hard.
Some printed flats will do you more favors than sky-high heels, but don't be afraid to glam up your outfit with a bright lip and clutch.