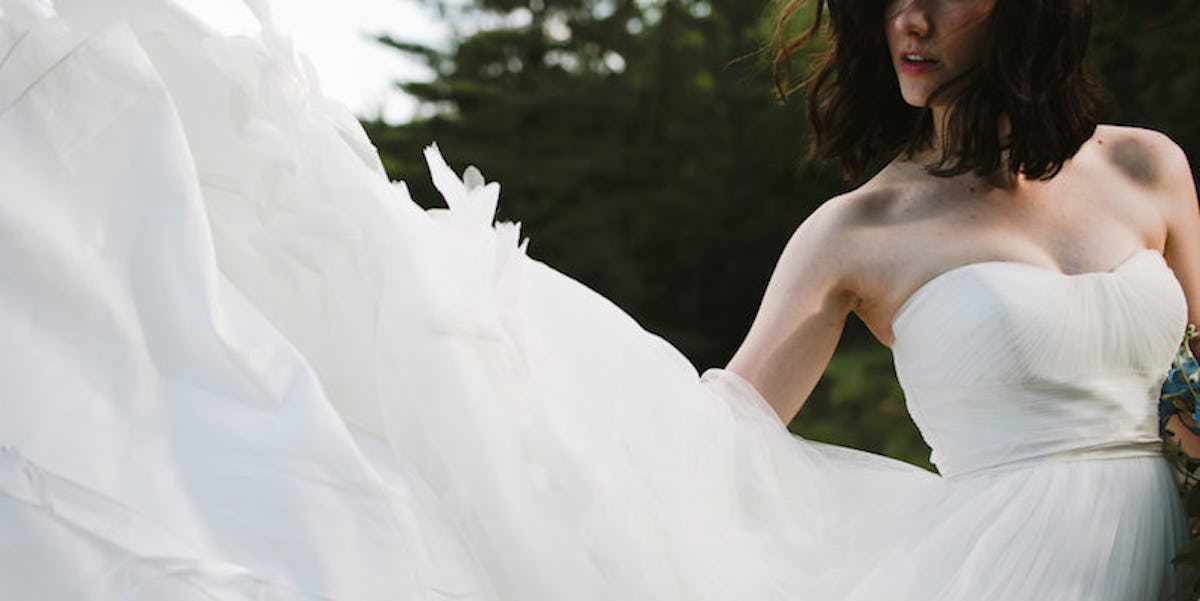 The One Piece Of Clothing You Should Never Critique Is A Woman's Wedding Dress
Stocksy.com
There's a new bridal trend in town: the dip-dyed wedding dress trend. This new look is an edgy and fun way for brides to add some color to the traditional all-white dress, whether it's just a single color or several different colors fading into each other.
A quick look on Pinterest or Instagram shows that a ton of women are opting for this DIY, non-traditional look.
However, not everyone is on board.
A friend of mine recently looked into the new trend on social media and concluded that dip-dye is "kind of ugly," which I'm sure isn't an uncommon opinion.
This isn't the first time I've encountered that line of thinking; I had to deal with a wedding dress consultant who strongly believed any dress that couldn't double as a ball gown from the Reagan era was "boring."
Usually, I'm all for people speaking their minds. I think opinions make for a more interesting world, and honesty should be praised. But when it comes to a bride's attire, I think different rules apply.
You see, a woman's wedding dress is a source of real joy. As soon as I picked out my frock from the store, I eagerly awaited the day I could finally wear it. Brides feel striking and confident when they get to wear their carefully-selected gown as they marry a carefully-selected human being.
On an average day, I'm not one to willingly agree and smile when my photo-loving gal pal suggests that we take a selfie. (Listen, normally I have hair like Mia Thermopolis… before she got her princess makeover.) But on my wedding day, I gladly posed for the professional photographer, even when my cheeks became sore from smiling all day, because I was wearing my favorite dress.
I strive daily to be a strong, confident woman who knows who she is and isn't fazed by other people's opinions. Honestly, though, I can't imagine how disappointed and sad I'd be if I watched someone go through my beloved wedding photos and declare that they disliked my dress.
That's the dress I chose out of hundreds of others, the dress I celebrated with loved ones in and the dress that helped make me feel like a million bucks on my big day. It's special to me.
Sure, sometimes a bit of constructive criticism in the name of clothing is acceptable and necessary. For example, on my 21st birthday, I was about to greet my first party guest when my mom kindly informed me that the short, skin-colored dress I was wearing made me look naked.
As I look back on photos from this night, I am eternally grateful for her words. Sometimes we need to hear that something isn't appropriate for the occasion.
But if a bride decides to celebrate her special day in a wedding dress that has a multi-colored hemline, which you personally think is "kind of ugly," you'd best be keeping your mouth shut. You might feel like a clown in a dress like that, but she obviously feels beautiful in it.
Sadly, feeling beautiful is a rare sensation these days, so why ruin it with a careless comment?