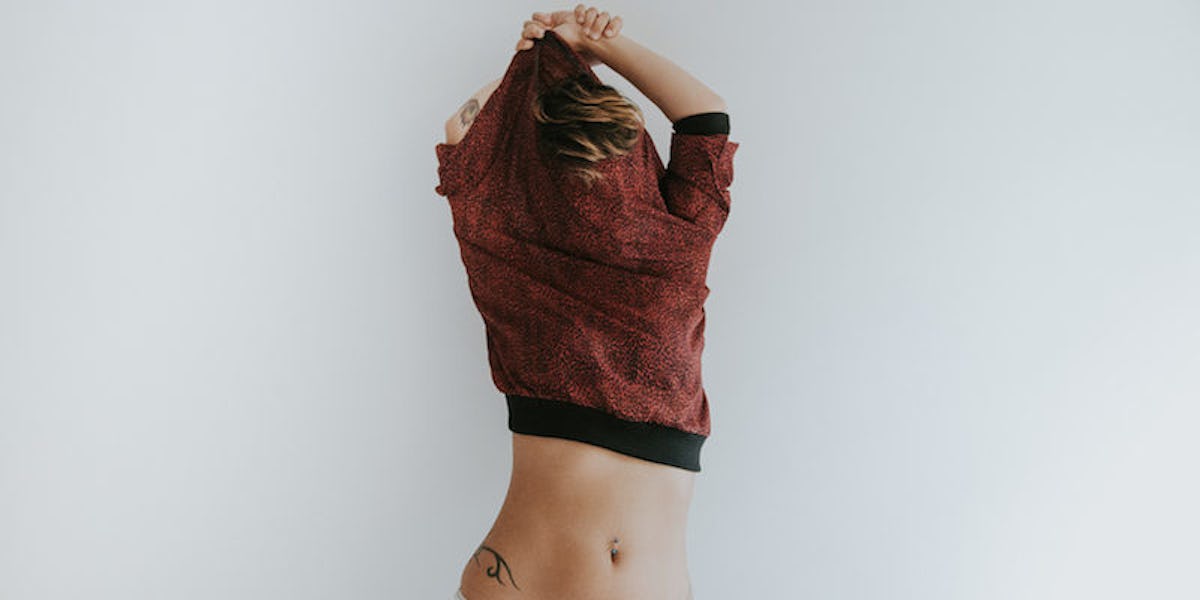 Our Obsession With Post-Baby Bodies Is Just Another Way We Judge Women
thais ramos varela
It's no surprise that the internet is a goldmine of critiques of women's bodies. More surprisingly, however, the critics have no mercy when it comes to expectant and new mothers.
Chrissy Teigen and Kendra Wilkinson both shared Mother's Day posts via Instagram, receiving opposite responses from their followers.
Teigen is pictured cooking breakfast in denim shorts and a crop top with a seemingly flat stomach, while Wilkinson is baring her tiger stripes with the caption "Look what my 2 babies did ... They made me happy!"
Immediately, Instagram users began to question how Teigen could look like that after giving birth on April 14. Some even questioned the genuineness of her pregnancy, suggesting that she was never really pregnant at all and had a surrogate carry her daughter, Luna Simone Stephens. She was even accused of only caring about "what people think of what she looks like after birth."
On the other hand, Wilkinson was praised for her bravery in showing what "real" mothers look like.
These sort of comments are damaging and deeply rooted in our weight-shaming culture. Do we need to get real about pregnancy? Absolutely. But the reality is plenty of women look like Teigen postpartum, plenty look like Wilkinson and many look like neither. And guess what? All are OK.
Every woman's body responds differently to pregnancy. Women need to stop being criticized for the size of their baby bumps, the amount of weight they gain during pregnancy and especially how they look after giving birth. These factors are influenced by a lot of things, like whether it's the women's first pregnancy (the baby tends to be held more tightly), height, torso length, the position of the baby and athletic levels.
In March, Australian fitness model Chontel Duncan came under scrutiny for not taking a break from her workouts during pregnancy. Critics have said that she was all about staying skinny and that her baby wasn't getting proper nourishment. Duncan posted a picture online comparing her tiny baby bump with a friend who was only a few weeks further along. The friend was at least a foot shorter than Duncan and was not on her first pregnancy.
Last year another fitness model, Sarah Stage, came under attack when she posted a picture of her small, eight-month baby bump.
For some, these criticisms come from a place of concern but are ignorant at best. When it comes to baby bumps, size really doesn't matter, as long as the baby is developing properly, which only a doctor can determine — not internet trolls. A small bump doesn't necessarily mean a malnourished baby.
When it comes to post-birth, women shouldn't feel pressured to get their pre-pregnancy bodies back immediately after bringing life into the world, but those who bounce back or are naturally slim should not be shamed either. Remember: Each body is different.
According to author Claire Mysko, pregnancy and newfound motherhood can trigger the roots of eating disorders for women with histories of such illnesses. And that's without the criticism from outsiders and the media that bombard new mothers with diets that promise quick fixes to get their body "back."
In addition to dealing with new motherhood and baby weight, women are also dealing with all of the taboo changes that come with a post-pregnancy body. Shortly after giving birth, Teigen shed some light on one of these subjects when she tweeted about her perineal irrigation bottle — something few mothers really talk about. Perineal irrigation bottles are often given to new mothers who delivered their babies vaginally to clean themselves off with after using the bathroom.
I think everyone can agree that it's time to get real about pregnancy and post-pregnancy bodies, but it's also time to stop shaming other women and stop feeling ashamed because another mother "bounced back" faster. Pregnancy is a beautiful process and should not be trivialized by our society's obsession with female body ideals.
To all the mothers out there, keep on rocking.