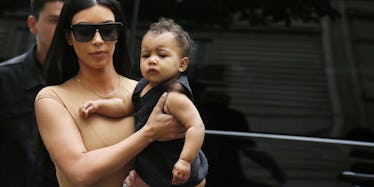 These New North West Emojis Are The Perfect Way To Express Any Fashion Crisis
Reuters
In just two short years of life, North West has developed a better sense of personal style than I have in 24. The endlessly sassy daughter of Kim Kardashian and Kanye West owns piles of Balmain military jackets and custom-fitted Yeezys.
It's only fitting, then, that the toddler heiress should start claiming a portion of her parents' social media and branding empire as her own. The latest update to Kim's custom Kimoji app includes several pictures of North doing what she does best: making rude faces at the paparazzi who follow her every move.
You know that scene in "The Lion King" where Mufasa takes Simba up to Pride Rock and says, "Everything the light touches is yours"? That's what's happening here, if you substitute social media for the Serengeti.
I digress. When it's 8 pm on a Friday night and I'm struggling to make an outfit match, I need the perfect emoji to convey my frustration to all my impatiently waiting friends. This is where North West comes in -- the audacious little girl has a stank face for every problem I might encounter.
Here are just five examples of when North West emoji might come in handy. The add-on pack, by the way, is available through the Kimoji app for just 99 cents.
When you decide to go braless in 90-degree weather, but your friends dare question your judgement.
When you have to choose between paying rent and buying a summer wardrobe.
When you're desperately trying to buy sale Zara stilettos, but they immediately sell out online.
When you show up to a party feeling good, only to realize your nemesis wore the exact. Same. Outfit.
When you see everybody trying to cop your style. Good luck, girls.