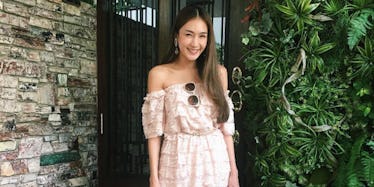 This Bride Wore 10 Wedding Dresses, And You Can Barely Afford Just One
Planning a wedding is stressful stuff.
First, there's finding the perfect date (April 25?). Then, you're forced to decide if your weird estranged cousin actually deserves to eat an exorbitantly priced meal, or if he should get to bring a plus-one.
By the time you're actually picking a dress, you'd almost rather get married in sweatpants.
One very popular bride, a Thai actress who goes by Noey Chotika, has done precisely the opposite.
The star, who has nearly 4 million Instagram followers, is turning heads for her decision to wear no less than 10 wedding dresses throughout her wedding festivities.
She began with a demure dress (pictured above) for her bachelorette party. Then, she switched to a more modern number.
Dress three seems to have been part of a pre-wedding photo shoot. It was incredibly glamorous.
Is this a dress or Chotika's attempt at the whole "sexy human present" thing? After all, there's a bow.
Dress five was a step toward Old Hollywood glam.
Finally, we've reached Chotika's first wedding ceremony. It was a much more traditional affair than her next celebration.
Costume change! This is dress seven. At least she stuck to a cohesive color palette, right?
So did all of her bridesmaids.
This sparkly number was a little more va-va-voom.
Catch your breath. We're nearing the end here. This Zuhair Murad showstopper was Chotika's second to last dress, worn the day of her ceremony.
(This is what her ceremony looked like, by the way.)
Chotika's 10th and final dress was after-party ready.
If you had to wear just one of Chotika's gowns, which are you most likely to pick? Which one do you kind of want to burn in a fire?
Let me know in the comments.
Citations: Everyone's obsessed with the six stunning outfits this bride wore for her wedding Read more: http://metro.co.uk/2016/09/15/everyones-obsessed-with-the-six-stunning-outfits-this-bride-wore-for-her-wedding-6129181/#ixzz4KLMGVsI7 (Metro)