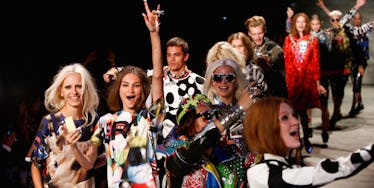 The 6 Most Important Things To Know Before You Attend NY Fashion Week
Shutterstock
No one enjoys the uncomfortable feeling of being out of place.
You never want to be THAT person who is unsure of where to go, what to do or whom to talk to.
Everyone wants to feel confident and stroll into any setting -- whether it be a wedding, work happy hour, house party or a fashion show -- without second guessing him or herself.
New York Fashion Week is no exception. Because of its connotations with high-end clothing and celebrity sightings, the whole week can seem overly intimidating and nerve-racking.
If you're anything like me, you didn't grow up in Manhattan and are not used to the pumping music and flashing lights of runway shows. Nope, the whole scene is pretty new to you. Thus, you're probably looking for any tips on how to look like a fashion week pro who regularly lands the most exclusive invites and always sits right in between Blake Lively and Jessica Chastain.
And whom do you normally go to for advice? Your friends. So that's exactly what I did.
Sophie Hay is a former British Vogue and ASOS intern and now serves as the content and menswear editor at Lyst. Emily Dawes is the junior fashion assistant at YOU magazine. They both happen to be my very good friends and immediately answered all of my burning questions about attending Fashion Week.
Who:
Fashion designers, models, bloggers, athletes, socialites, editors, photographers... You get the picture.
But unless you have a front-row seat at Michael Kors, you probably won't be rubbing shoulders with the likes of Alexa Chung or Oliva Palermo. You might, however, happen to run into a few familiar faces.
If that does happen, Sophie says to just use your "common sense." She advises, "If you do see someone you love/admire/have a girl crush on leave them alone — Leandra is working too you know!"
What:
Yes, there are tons of surprisingly short runway shows, but there are also parties, PR events and as much free water as you can drink (or fit in your bag).
Emily reminds us how "everybody's there to see the clothes on the catwalk," so don't think these are events where all eyes are on you.
Just enjoy the shows, take a lot of photos and get some inspiration for your spring/summer 2016 wardrobe. You probably can't afford the straight-off-the-runway looks anyway.
When:
September 10 - 17, including weekends. Don't miss it. (But, in case you do -- warning, shameless plug -- come back to Elite Daily Women for extensive coverage!)
Where:
New York, New York. While the locations of shows vary among designers, the main Fashion Week location is no longer Lincoln Center. After a decision to part ways and find a new location that "focuses on content, caters to the needs of the industry, and creates a full cultural experience for guests," Skylight at Moynihan Station and Skylight Clarkson Sq. are the newest hubs for runway shows.
Double check your invite to confirm the location, and once you get there, you can worry about snapping pictures for your Instagram account or publication.
Emily warns, "Your pictures will almost always be blurry. [It's] better to sit near the end of the catwalk to get better pics as the model poses at the end."
Why:
What purpose do you serve at the show? Are you covering trends? A particular designer? The famous attendees?
Know what you're there to do and get your job done. PR companies and the designers' teams don't just hand out invites for free. They want something from you -- press, publicity or both. You're there for a reason, so don't underestimate yourself.
Even if you do feel a little out of place, don't let that stop you from making the most out of the week. Because according to Sophie, "Everyone else there probably feels as much [like] an imposter as you."
Basically, they're all faking it, too.
RSVP:
Just make sure you do. Unless you're literally Anna Wintour or Grace Coddington, your presence alone doesn't guarantee you a seat... or even standing room.
Dress Code:
This is probably the biggest stresser among fashion's elite and people like you and me during the second week of September. But it really doesn't have to be.
Both Emily and Sophie were in strong agreement here.
Sophie says, "No one cares what you wear and you can spot a rookie/someone who isn't supposed to be there because [he or she will] be way too dressed up."
And, most importantly, Emily warns, "No one wears heels unless you've been paid to sit on the front row."
So don't think you need to pull a Kim K and wear sky-high heels or the latest couture evening gown. Your feet will be in pain after waiting in the standing line for 30 minutes, and let's be real: You're taking the subway home after the show ends.