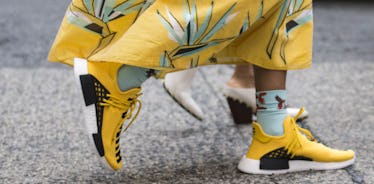 Flats Are Finally The New Heels, And New York Fashion Week Proved It
Julien Boudet/BFA/REX/Shutterstock
In May, Julia Roberts walked the Cannes red carpet barefoot, slipping on stilettos just before entering the Palais, where her movie would premiere.
The pretty woman's shoeless rebellion called back to the year before, when female guests at Cannes were turned away from the Palais for wearing flats, regardless of age or medical condition.
"I think everyone should wear flats, to be honest," Emily Blunt said in reaction to the archaic dress code.
"We shouldn't wear high heels anymore. That's just my point of view... I prefer to wear Converse sneakers."
Heels were still the norm at this year's Cannes red carpet – though Kristen Stewart made a point of wearing flats –  but September's New York Fashion Week featured a wide range of cozy-looking footwear beyond the dreaded stiletto.
Anyone who has ever worn a high heel knows it's not necessarily a pleasurable experience. A five-toed foot doesn't easily slide into a spiky stiletto and a round-toed pump is rarely more comfortable.
Look at the shape of a foot. Look at the shape of a high heel. Do the math.
Originally worn by men in the 10th century, heels have gotten higher, pointier and more impossible to walk in as the centuries have dragged on, especially for the women oppressed by their seductive footwear.
In New York City, heels are yet another sign of status.
Beyond wearing trendy clothes and carrying the college tuition-priced handbag du jour, New York's fashion elite wear barely broken-in heels that say, "No, I don't take the subway, I'm chauffeured around town in my OOTD like Manhattan royalty."
This past summer, I was walking on the High Line, an elevated park near the Meatpacking District, when I saw a woman remove her four-inch pumps that I'd been admiring from afar.
From both of her big toes throbbed enormous, golf ball-sized bunions, the type associated with elderly women, though she couldn't have been older than 40.
This is what women are doing to themselves for beauty – destroying their feet. All the times we've pushed through three more blocks walking, one more hour of wedding dancing or two more days at the office in somewhat sensible sling-backs are damaging our bodies.
I went to a podiatrist. She said at 25, I had nothing to worry about with my feet, though I should lay off the heels.
Unable to return the new Kate Spade glitter heels I just procured from Bloomingdale's, I tucked them away in my closet and considered outfits that matched Birkenstocks and flats with Dr. Scholl's gel pads tucked in.
I returned a pair of distressed jeans that would only look good with heels. I wasn't going to destroy my body for something as silly as footwear.
High heels, impractical for women who rely on public transit, as well as those who need to walk, lift, chase children or just live comfortably without the distraction of constant foot pain, may be on their way out.
One could argue heels are not for walking in, just standing in and looking pretty, but in 2016 it's illogical for a woman to entrap herself in a foot device that barely lends itself to walking from the cool corner of the bar to the restroom.
This New York Fashion Week, more and more designers showed flats and what your grandmother may call sensible shoes in place of hefty stilettos.
At Misha's NYFW debut, models teetered down the runways in 6-inch tall Louboutins.
Their ankles creaked with the challenge of supporting their body weight on a thin stilt.
At Christian Siriano, a model completing a loop around the catwalk collapsed as a teal pump flew off her foot.
She retrieved it like a trophy and stumbled off backstage to a quiet round of applause from the audience in front of her.
Walking is 99% of a model's job and if they can't even do that right in these atrocities to feet, how can anyone?
Siriano noted after the show that the model's shoes may have been too big and added there is no real rehearsal before the big runway performance, which is "always a risk."
Does he think stilettos have seen their last days? "I think yes and no," he said. "I think comfort is always important but I do think there are women that will suffer to look even more amazing."
Let's stop suffering, maybe?
More and more runway shows have embraced flats, slippers, sneakers and sandals as the footwear of choice for models, and a shift away from un-wearable shoes is imminent.
The point of NYFW is to sell clothes, after all, and who wants an outfit that not even the living, breathing mannequins can pawn off as wearable?
Ready-to-wear collections like Rebecca Minkoff, Band of Outsiders and newcomer PH5 featured alluringly comfortable footwear.
Think strappy flats and Velcro sneakers!
Couture designers like Proenza Schouler and Carolina Herrera embraced more walkable platform sandals and loafers in place of heels.
Even former Spice Girl Victoria Beckham dressed her models in a flat boot Posh would never wear at "Spice World."
While heels were not invisible on the runways, the shift towards realistic footwear is evident and necessary for those of us who'd like to keep our healthy feet.
My glitter Birkenstocks agree.