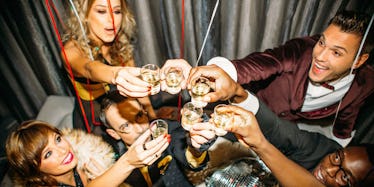 The Massive Difference Between How Men And Women Get Ready On New Year's Eve
It's 8:30 pm. I told my friends I would meet them at 10 at our favorite Upper East Side whiskey bar.
Realistically, I probably won't get there until 10:45. Most of my friends will not even leave their apartments until 11.
It's not our faults, exactly. As girls, there's a lot to consider before hopping out the door.
I always take into account that photos will be taken of me at some point throughout the night. That means saying goodbye to translucent setting powder and hello to falsies and exaggerated contouring.
Because we have so much sh*t to consider before we even think about ordering an Uber, it takes us much longer than men to get ready.
Sorry, gents, but looks like you'll be sitting in our living rooms catching up on Netflix for a long time.
This holds true on every Friday and Saturday night, but is especially true come New Year's Eve.
All that glitter takes time.
6:00 pm
He is: finalizing his pregame plans.
She is: still weighing the pros and cons of going to the party versus ordering Chinese and watching Ryan Seacrest from the comfort of her couch.
6:45 pm
He is: snagging a six pack from the corner bodega.
She is: watching "Broad City" and still debating going out. Season two, where you at?
7:45 pm
He is: hopping in the shower and thinking of that cute blonde in the bodega.
She is: taking a much-needed disco nap.
8:15 pm
He is: drying off and grabbing the only semi-presentable shirt he has lying around.
She is: just remembering she has to be at Liz's at 9:30. F*ck.
8:20 pm
He is: stuffing a condom into his back pocket, just in case.
She is: lip-syncing Nicki Minaj's verse in "Flawless" in the shower. Okay, maybe real singing. Fine, more like belting.
8:30 pm
He is: on his way to the pregame.
She is: double-masking her hair, shaving her legs and plucking that mini handlebar mustache she's been sporting since Christmas.
8:45 pm
He is: on his first whiskey of the night.
She is: trying to figure out if now is finally the time to rock that absurdly overpriced sequin jumpsuit she bought from a sample sale six years ago.
8:52 pm
He is: pretending to actually enjoy the whiskey he's been sipping.
She is: immensely regretting spending an entire paycheck on a jumpsuit. Maybe next year.
9:05 pm
He is: two whiskeys in and still hates the drink.
She is: praying the LBD she picked out hasn't shown up on Instagram yet.
9:15 pm
He is: switching to beer. He's already had two. Or, was it three?
She is: watching Alexa Chung hair tutorials for inspiration.
9:25 pm
He is: currently screaming out, "can everyone stop pretending to like whiskey shots already?"
She is: slowly realizing the Alexa hair was a bad idea.
9:30 pm
He is: in an Uber to the party.
She is: trying to figure out how much body glitter is too much body glitter.
9:45 pm
He is: moving on to tequila.
She is: perfecting her winged liner game while chugging a glass of Pinot.
9:50 pm
He is: talking to the girl he plans on making his kiss tonight. If all else fails, her friend is hot, too.
She is: thinking that maybe drinking wine while attempting a cat eye wasn't a good idea.
10:00 pm
He is: crunk.
She is: in an Uber to Liz's.
10:10 pm
He is: regretting his fourth tequila shot.
She is: asking her driver to turn around because that is way too much body glitter.