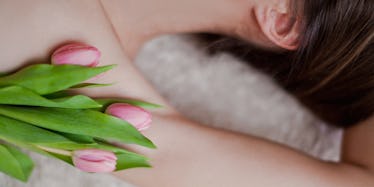 What's That Smell? I Tried 6 Natural Deodorants And This Is What Happened
Sanja Lydia
Nothing is better than not having to worry about your natural scent disturbing your everyday flow -- let alone dealing with fluids leaking from your underarms, staining all of your white shirts yellow.
Not only does deodorant (mostly) control your fluid flow, but it also helps mask your natural stench. Which is all really wonderful, until you realize it's actually not.
According to the National Cancer Institute, deodorants containing aluminum can cause hormonal effects that can lead to the development of breast cancer. Well, this sucks. So what now?
With a subway car full of sardines in suits waiting for me every morning at 8, there was no room for me to channel my inner Kourtney Kardashian. So I bit my lip and found 6 natural deodorants to test out one by one. Here are the results, try at your own risk.
T'eo Deodorant, $9, Lush
How to Apply: Rub the powder side into the palm of your hand then blend it into your pits.
Pros: This deo-bar is vegan and has a really great scent. It's also made from tea tree oil, which essentially kills the bacteria under your pits.
Cons: Your hands will smell like your pits after application, but maybe that's not a bad thing...
Kiss My Face Cucumber Green Tea Active Life Deodorant, $5, Amazon
How to Apply: Stick the tube under your pits and swivel.
Pros: The scent of the bar is wonderful and it's as close to "normal" deodorant as you can get.
Cons: In my case, the good smell didn't last very long and before I knew it I was back to smelling like graham crackers. And not in a good way.
Kiss My Face Liquid Rock Roll-On Deodorant (2 Pack), $12, Amazon
How To Apply: Roll onto pits.
Pros: The great thing about this rollerball is that you don't have to worry about white streaks or any funky stuff left by the deodorant.
Cons: Make sure that when you're first applying, your pits are clean and dry. Otherwise your rollerball will smell like your stank.
Primal Pit Paste Deodorant, $10, Amazon
How to Apply: Rub a pea-sized amount of paste into the palm of your hand and apply under your arms.
Pros: Applying once a day is all it takes to do the trick. Also, Pit Paste is great for masking your natural scent and is entirely vegan.
Cons: It's paste. Wash your hands when you're finished.
Dr. Mist Unscented All Natural Spray Deodorant (2 Pack), $20, Amazon
How to Apply: Spray onto pits.
Pros: The packaging is really convenient for use and travel. It's easy to apply and you don't have to worry about it melting.
Cons: Although Dr. Mist comes scented, it's not the strongest. If your natural scent is beyond the average, I'd choose another brand.
Meow Meow Tweet Baking Soda Free Deodorant Cream, $18, Amazon
How to Apply: Like Pit Paste, this is also a dab & rub.
Pros: Meow Meow easily has the best collection of scents for natural deodorant on the market, and the smell actually stays with you throughout the day.
Cons: I found myself having to apply around twice a day. Also be careful of using too much at once, you'll be left with sticky pits.