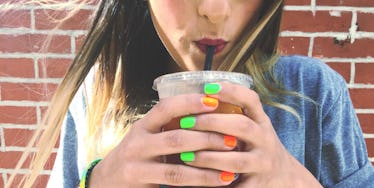 Fake The Bake: Nail Polishes That Make Your Hands Look Tanner
Whether it's the tail end of summer or halfway through January, we're always on the pursuit to make ourselves look like we just came back from a fabulous beach vacation in Tahiti. Seeing as the only place in which I can afford such a vacation is in my dreams, there are ways to fake that bake without even stepping away from your computer.
A fake tan helps give an all-over glow, but let's face it: Figuring out how to get that formula to not streak and actually look natural on your hands is way too hard. Sorry, but who actually has patience for that?
If your idea of faking it takes no more than ten minutes and minimal supplies, go the simpler route and just paint your damn nails. Yes, really. You're a coat of polish away from unleashing your inner beach bum. Sure, it might not make your entire body look like a glorious sea goddess, but if you spend all day typing away on your laptop, you might as well focus on the one part of your body that you actually see all day.
It's all in the color. Look for polishes that have a bright white base. Neons are usually great at this, as well as some of the more Day-Glo pastel shades. Not sure what we mean? Check out these hues:
"Pink Up," Sally Hansen Miracle Gel Nail Polish, $10.95
This hot pink shade will make you look like you spend your weekends in South Beach, NBD.
Hot pink shades work so well for fair skin tones because it's the middle ground between opting for a nude and a dark shade. Nudes tend to wash fair skin tones out and give you "dead people" hands, while dark colors can look harsh.
"Amazing Grace," Deborah Lippmann Nail Color, $18
Throwback to your middle school days when you painted your nails in White Out (except this is way chicer).
All-white nails look great on any skin tone -- stark white will bring out a tan on paler girls, and look on point. If you're not about the white nails look, try rocking them on your toes. Your sandals (and your feet) will thank you.
"Deven Green," Obsessive Compulsive Cosmetics, $10
No need to be green with envy — this neon shade will make your fingers look like they were dipped in Nickelodeon slime.
The white base in this lime green shade will work on any skin tone, but will be particularly stunning on ladies with a medium complexion. Bronze-toned skin and green go hand-in-hand -- or rather, finger-in-finger.
"Swimsical," Sally Hansen Gel Nail Polish, $10
This poolside blue will make you wish you were in someone's backyard about to take a dip, and not in front of your computer.
A chalky blue might be an unlikely choice, but the bright base in this polish will bring a pretty bronze glow to fair skin tones
"Short Cir-Cute," Sally Hansen Gel Nail Polish, $10
Orange might not be the new black (sorry) but it's definitely tan-friendly.
This electric shade will warm up any skin tone, but would look particularly pretty on light-medium girls.
"Beta," Obsessive Compulsive Cosmetics, $10
This is basically like dumping out the contents of a glow stick onto your nails. Say hello to the best (fake) tan of your life.
This tangerine color is the perfect contrast for a range of skin tones -- from the palest to medium-skinned ladies, this white-based polish will give a natural-looking tan. Seriously, you'll look like you never left the beach.